4 Best AI Video Generation Platforms
Vitalii Romanchenko
Nobody could deny the power of videos in 2022. Video content is becoming a must-have for internet marketing, education, and plenty of other purposes. The production of video content, on the other hand, can be time-consuming and difficult. Once the team is assembled, you will need to purchase equipment, rent the studio, and subscribe to a variety of software tools. All this might be quite costly for your firm.
However, even if you have everything in place, things can go awry, resulting in skyrocketing expenses and delaying projects for a long time. Thus, there should be a novel solution: for example, AI video generation platforms. Professional videos for YouTube, sales presentations, documentaries, and other uses are now easy to create thanks to this breakthrough.
Choosing AI video generation platforms: what you need to know
If you want to learn about the greatest AI video generators that can turn text into high-quality videos in minutes, this article is for you. In all we do, we place high importance on honesty and the needs of our audience. So, you can be sure that all of the products here are being shown in the most truthful way possible.
The AI video generation platforms will all be unique in their own way. Some of them may be more difficult to use than other ones, require additional involvement, or are even built to produce videos for certain purposes. Only AI video creation platforms with a virtual presenter will be discussed here. With these tools, you can create videos with human-like voice narration that will keep your viewers interested.
So, choose the one that suits your needs and resources best. Go over the essential features, pricing, pros & cons, and then use your judgment.
Criteria
Below are the criteria for the best AI video generation platforms with digital avatars. Read on to find out which product gets the highest results!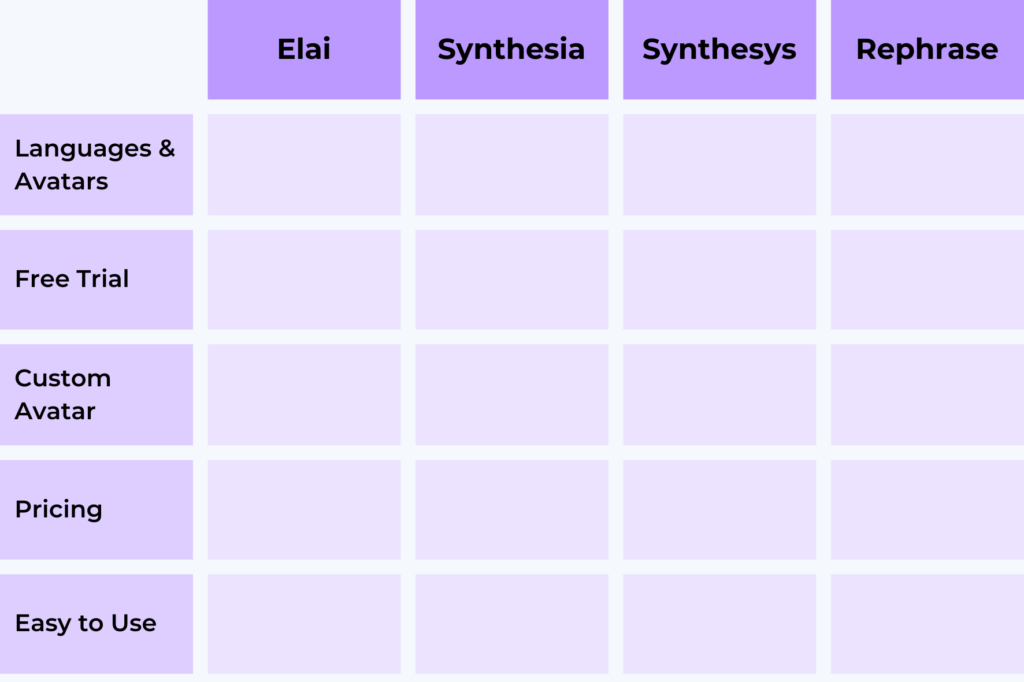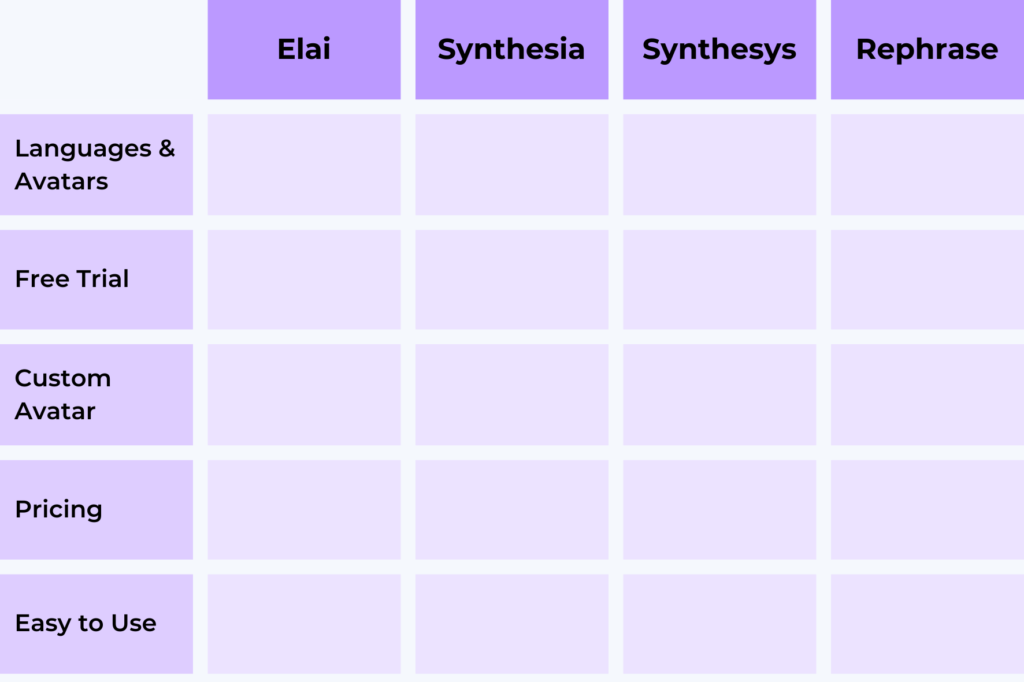 Top 4 AI video generation platforms with digital presenters
1. Elai
Elai.io is a top text-to-video platform that lets you make personalized AI videos with a presenter just from text. A single click is all it takes to create a video that can be translated into 69 languages and can feature over 20 real-looking digital avatars. It is indeed a powerful SaaS tool for making your own AI-powered videos. Elai offers fully customizable video slides, a text-to-speech solution, screencast-based video creation in one click, and more.
Easy-to-use builder
There are many features in the builder that show Elai's dedication to making video creation easier and more efficient. Your video can be narrated by any video presenter, and you can use as many different elements as possible in your video. Additionally, you can include music, your own voice, and even invite a friend or coworker to collaborate with you on a video you create. The use of various features will improve the quality and professional appearance of your video project.
Numerous use cases
There are a lot of different ways you can use videos made with the help of Elai, from learning and development to company communications. Users can save time when creating videos specific to their field by using one of the many customizable templates available. E-learning videos can be made with unique avatars as presenters, personalized video messages can be added to your marketing campaign, and an interactive training video can be created for your onboarding process.
API implementation
One draft can be turned into an amazing array of customized videos in a few clicks with Elai API. All you have to do is upload your user base, add tags to the text area, and click "Render." With a custom avatar, you can communicate with each of your users on a more personal level while spending less time. API interface can be also integrated with your LMS system, as Elai did with Thinkific LMS. You can enjoy the feature by subscribing to the Advanced plan or contacting Elai to request it directly.
Pricing
Elai's pricing system is simple and clear. Customers can select from the following pricing options:
Free – $0;
Basic – $29 per month / $250 per year;
Advanced – $99 per month / $750 per year;
Corporate – Custom Pricing;
Custom Avatar – $500 (one-time payment).
Customers can use Elai's solution for free, with no credit card information required, unlike the rest of the AI video generation platforms in this article. 5 minutes of 1080p video and full access to the stock library are included in this plan. The video can be narrated in one of 69 languages by one of more than 20 different avatars.
The Basic plan includes all of the features of the Free plan, as well as the ability to create watermark-free videos, upload your own voice, and use up to 15 video minutes per month. The most popular plan for Elai users is the Advanced plan, which provides 50 video minutes a month. Videomakers can also add their own music and fonts, modify premium templates, and make a personalized video with API.
Elai's Corporate plan comes with a minimum of 60 minutes per month, all the features, and a dedicated account manager. The Custom Avatar option is also available. You can submit a request for a custom avatar of your representative, made one time and accessible forever to only you.
Pros
Free trial and affordable pricing;
Excellent customer service and a forum for discussing new features;
A variety of human-like presenters, each with a distinct voice and style.
Full HD video at a resolution of 1080p
Intuitive UI and easy-to-use builder with many features;
Numerous templates customized to suit a variety of purposes;
A vast collection of images, videos, music, and Lottie animations;
69 languages supported with far more voices to narrate the text;
Video editing done quickly and easily without using other software.
API-enabled video customization;
New updates nearly every week.
Cons
Not a lot of avatars, but each one has a different style;
As a growing start-up, there may be some bugs that are quickly fixed;
Several limitations to the Free plan.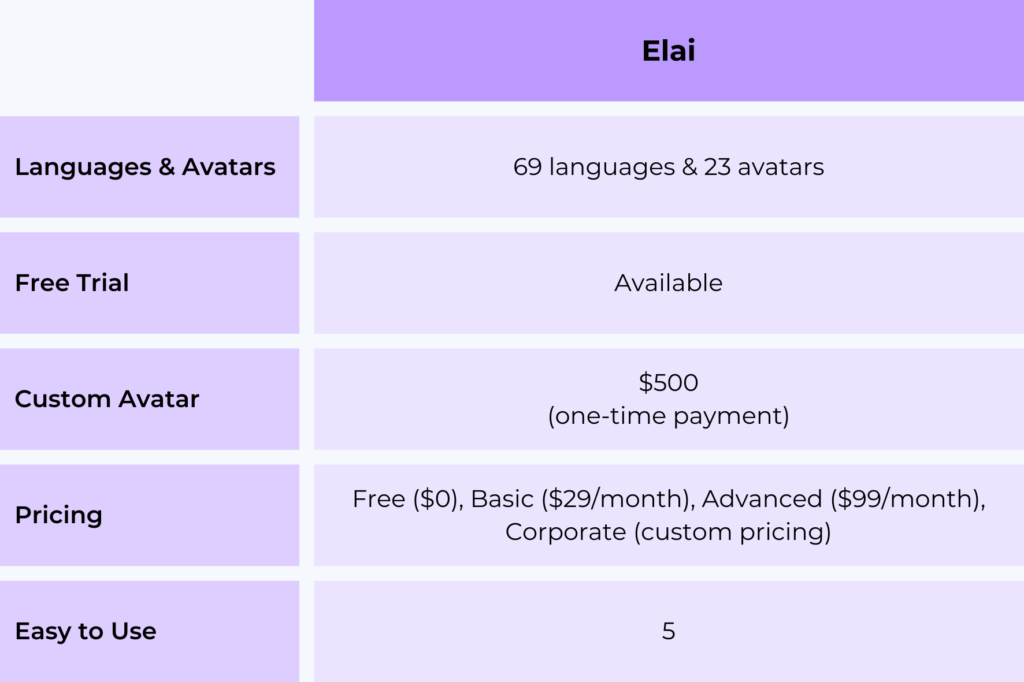 2. Synthesia
Synthesia's videos feature a human presenter who communicates with the audience, creating a much more personal experience. From digital marketing to corporate communications to employee training, there are numerous applications for this tool. So, if you're looking for AI video generation platforms to help you save time and money when making content, Synthesia might be a good choice.
Built-in & custom avatars
There are over 45 built-in avatars in Synthesia. These presenters are virtual humans that are realistic in appearance, it's nearly impossible to tell them apart from real people. Users can also use the custom avatar feature to change the built-in presenters with their own instead. Personalized avatars allow you to communicate with the audience even if you were not present during the video shoot.
Languages & voice narration
Synthesia's AI can produce videos in up to 60 different languages. In a single video, you can use as many as five languages. The voiceover and synthetic voice narration are both excellent. The avatar's speech sounds a lot like that of a native speaker and follows the script exactly. You can also record your own voice and upload it to replace a built-in synthetic voice.
Video customization
Using Synthesia, you can create a long video by merging all of your videos into one, with no need for third-party software. If your video scripts have a few small flaws in them, duplicating and rewriting the text in the video is all it takes to quickly resolve the issues. Unlike other video editing tools, your new video will be done in just minutes.
Pricing
Synthesia has a simple pricing structure. As of May 2022, customers can choose between the two pricing options listed below:
Personal – $30 per month;
Corporate – Custom Pricing;
Custom Avatar – $1,000 per year.
The Personal plan will let you use most of the features, except for voice customization and making your own avatars. The Corporate plan offers all features (custom avatar included), API access, more video credits, priority support, and other premium services.
But besides the limitations to the personal plan listed above, there are more to them. For example, you will only have ten video credits per month, each worth one minute of video. There is no possibility to combine more than six small videos into a single video. The videos with built-in avatars cannot be used in paid advertising campaigns.
The personal plan is great for companies that want to create short explainers or promo videos to increase brand awareness. For enterprises that have other use cases, the Corporate plan is the best option.
Pros
Human-like presenters with real sounding voices;
High-quality videos;
Easy-to-use;
Large media library for the video's customization;
Over 60 languages supported;
Edit videos easily and quickly without using third-party software;
Advanced customization via API.
Cons
No free trial;
Only ten video credits per month with the personal plan;
Only six small videos can be combined per personal plan, fifty clips for corporate;
No paid advertising with built-in avatars;
Other limitations for the Personal plan subscribers.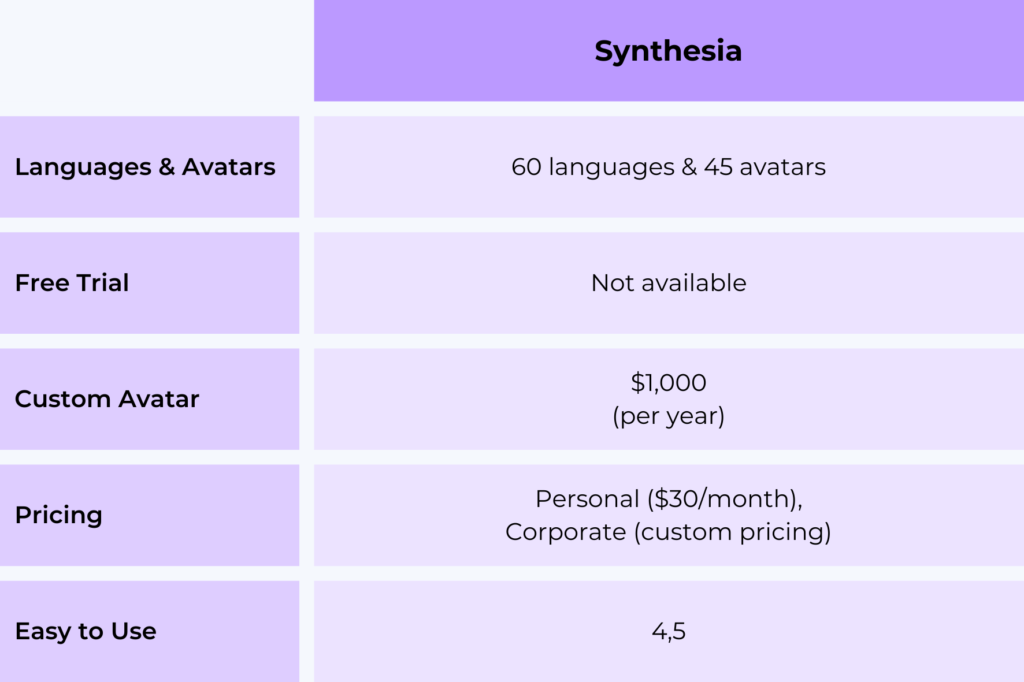 3. Synthesys
Synthesys is one of the robust cloud-based AI video generation platforms with a diverse set of features. The tool is creating text-to-voiceover and video algorithms for commercial use. Your script can be turned into bright and dynamic media presentations using their Text-to-Speech (TTS) and Text-to-Video (TTV) technologies. There's also the option of creating a video with a human-like AI presenter, which Synthesys refers to as "humatars."
AI voice generator
You can quickly build your business with the authority and trustworthiness of text-to-voiceovers that your clients will enjoy. With clear and natural delivery, the AI voice generator replaces the robotic and strange-sounding voices of the past. There are 35 female and 30 male voices in Synthesys' extensive library of professional voices.
Humatars
Synthesys allows you to make a video with a human-like AI presenter by simply entering your text. There's nothing complicated about the process. Choosing a humatar to act as the video's host is the first step in the process, of course. There are 25 humatars with various styles to choose from. You can also request a custom virtual spokesperson to deliver a visual that elevates your messaging.
Synthetic voices
There are a lot of possibilities when it comes to synthetic voices. Synthesys now supports 66 languages to choose from a total voicebank of 254 unique styles. The accents of each AI voice will also vary to accommodate a variety of target markets. This will give users a lot of flexibility, which is ideal for people who want to give their customers a unique, personal experience. You can even add your own voice if necessary.
Pricing
Synthesys has three pricing plans as follows:
Human Studio Synthesys – $39 per month / $374 per year;
Audio Synthesys – $29 per month / $279 per year;
Audio and Human Studio Synthesys – $59 per month / $566 per year;
Custom Avatar – $497.
The third plan is the same as the first one, but it adds a voiceover generator to it. Users who want to make a podcast or have other audio demands should choose this option. Let's say you merely want to work on your videos for a while. The first plan is more than enough.
Pros
All-in-one program with a variety of features;
An easy-to-use editing and rendering interface;
Natural and human-like AI presenter;
Output with a high resolution;
Full customization on a cloud-based application;
Up to 66 languages are supported;
Unlimited video creations;
API Access.
Cons
No free trial;
Creating a video takes many hours due to the tool's increasing popularity;
The video script is limited to 1000 characters;
Each video can only be one minute long;
To combine short videos into a long one, you'll need third-party software;
AI ignores the spacing between each sentence, so to remedy the problem, you'll need to add an extra "pause."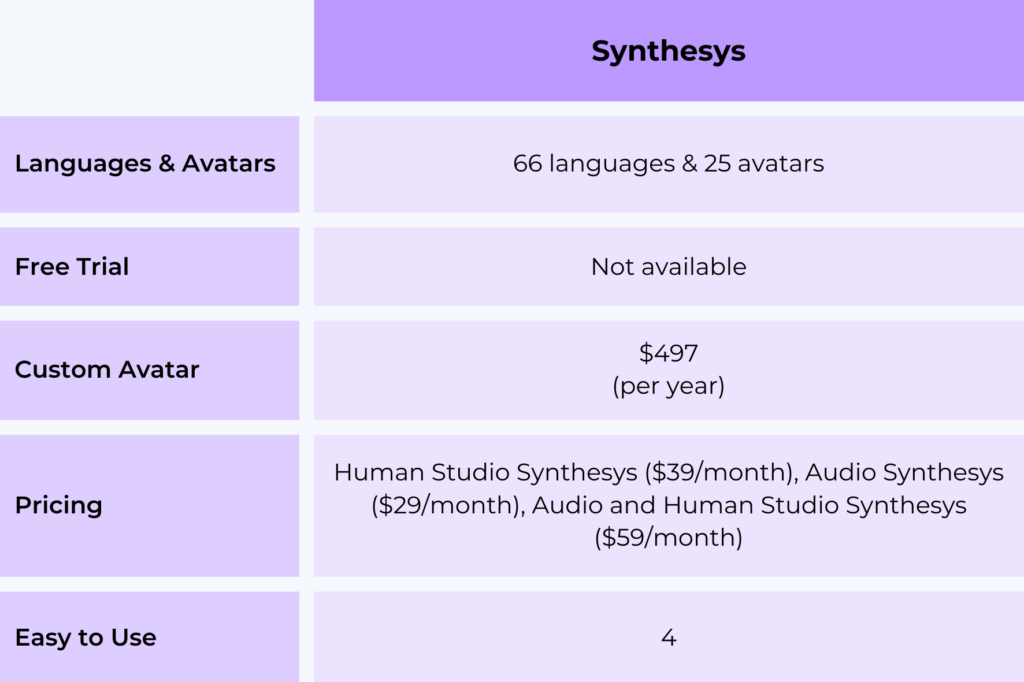 4. Rephrase
Rephrase is a great tool for creating engaging videos for a wide range of audiences. The application makes use of GANs (Generative Adversarial Networks), a promising deep learning technology. Using Rephrase.ai, you can generate high-quality videos with a digital human presenter by just importing text.
AI video maker
With Rephrase, it is quite easy to make a video. You can choose a presenter, write your script, add media, and make your video unique. Then you're good to go. From your existing text, AI creates voice narration for you to listen to. Consequently, you don't have to upload your voiceover. The examples show that the videos are of high quality, although the lip-syncing of presenters is far from great.
Video editing suite
Using Rephrase's video editing tools, you can edit the entire video without having to utilize any additional software. You can use their Rephrase Studio, an AI video creation platform, to both create and edit your video. Adding a call-to-action label to each of your videos might be the best part of it. It's a great way for your video to attract new customers to your company.
Studio tools
Adding a background, numerous scenes, media, and text animations to your video is simple with Rephrase Studio. Timing your films, adding music, and adjusting the volume of your video are also among the options. While the narrator may appear in the video, it's also possible to use the presenter's voice without them being seen. Besides, you can use the panel with a dark layout to help your eyes not get tired quickly.
Pricing
The pricing structure is a little confusing. They have two options: one for individuals who want to generate their own videos, and one for corporations that need customized videos.
Videomakers
Here are the plans for videomakers:
Starter – $25 per month;
Enterprise – Custom Pricing.
The Starter plan will let you use almost all of the features, except for custom actors and APIs. Only 10 credits are given out each month (1 minute of video is one credit). For the businesses putting short videos on their website to show off their products, this plan is the best choice. 
However, if you want more credits, you'll have to upgrade to the enterprise plan, which lets you include custom actors, use the API, and do a lot of other things.
Personalized videos
Plans for customized videos include the following:
Starter – $100 per month;
Expert – $500 per month;
Enterprise – Custom Pricing;
Custom Avatar – the price is not stated on the website.
Users on the starter plan are limited to ten templates and 300 personalized videos each month. More templates, a greater monthly video production limit, custom actors, and landing pages are all available to Expert plan customers. Enterprise plan users can get API integration and advanced services like premium assistance for the creative process and more.
Unlike the plans for videomakers', these give you access to personalized video templates. Thus, content creators can make a wide range of videos that can be used for sales and marketing, corporate training, and more. The plan is completely up to you as you pay for it on a month-to-month basis, so you can change your subscription at any time.
Pros
Human presenters who are realistic in appearance;
Videos in high definition;
Wide range of use cases;
Call-to-action (CTA) label to attract new customers;
Browser-based;
Advanced video creation assistance.
Cons
Significantly fewer features than their competitors;
Only ten human avatars are available;
Lip-syncing is not of high quality;
Not an easy tool to work with;
Complicated pricing structure;
Not informative website;
Only English language supported for voiceover.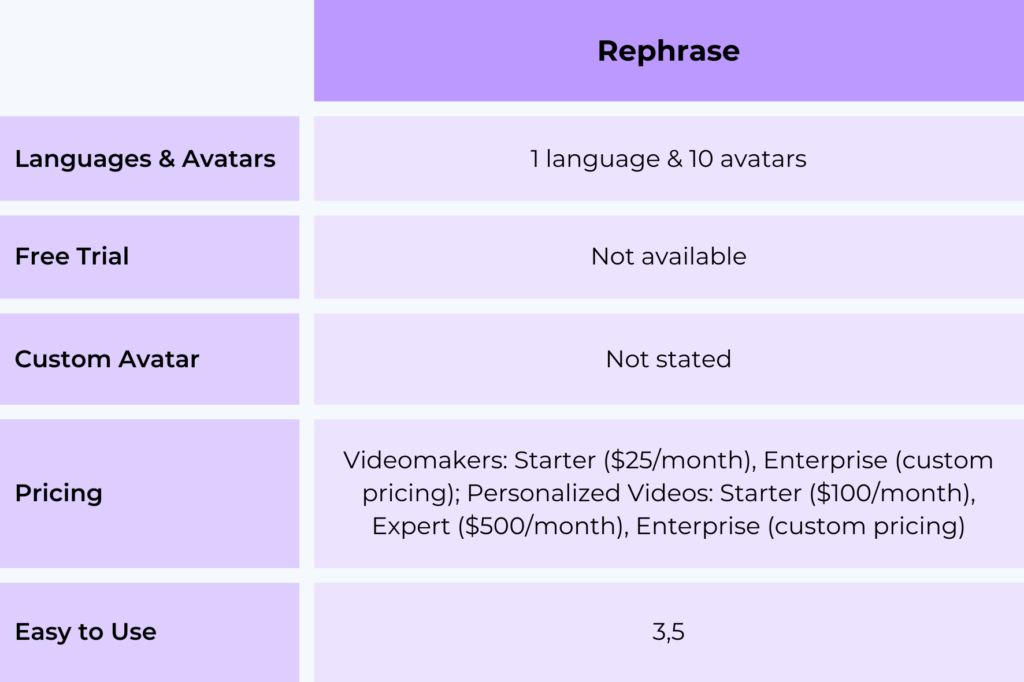 Conclusion
So, we've gone over all four of the most popular AI video generation platforms with digital avatars and discussed them. Filling out the table that was previously blank is now the only thing left to do in this article. Check it out and decide which AI video generation platforms suit your needs best by comparing the results!