Elai.io Builder – your go-to solution
A powerful SaaS tool for your custom AI-powered video creation
A library of diverse digital avatars to choose from
Fully customizable video slides: add text, screencasts, logos, animations, and more
A sophisticated text-to-speech solution, available in 65+ languages
Royalty-free background music and the possibility to upload own tracks
Screencast-based video creation with text adjustment available in one click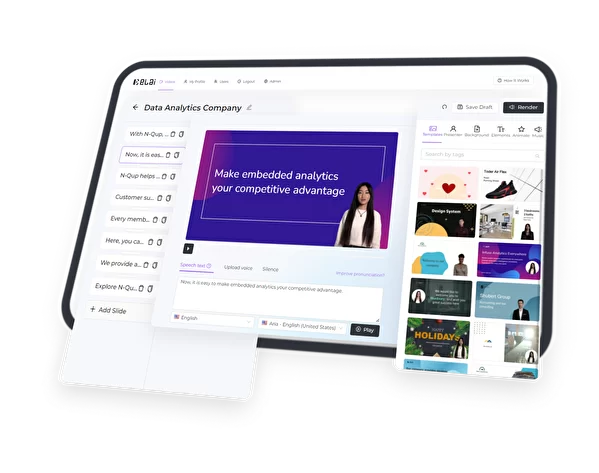 This is a sample video that was generated with the use of our platform. You are able to choose different presenters from our library and add your speech to the slides. We are still tuning our ML model and the quality will be improved in the future releases.
Learning and development. With Elai.io you are able to create e-learning videos with our unique avatar as a presenter.
Corporate Communications. Translate your video in 40+ languages in almost no time and without a professional crew.
Personalized Videos. Boost your marketing campaign with personalized video messages.