Create Captivating E-Learning Videos With Elai.io
Bring variety into your educational approach with Elai.io. See what we have to offer.
Learning is no longer limited to the classroom. People today require the freedom and flexibility to learn whenever, wherever, and however they want.
Elai has some excellent news for businesses looking to save money and gain efficiency. Deliver your educational content remotely via E-Learning video courses with AI-powered presenters!
Text to Video
Make an awesome video with a real human presenter just from text, no special skills are needed.
65+ Languages
Create videos effortlessly in 65+ languages to suit your educational needs. Easy localization in no time!
Edit Easily
Reduce the precious time spent on video creation. Editing your video is as easy and fast as changing a light bulb.
3 Ways AI-Generated E-Learning Videos Can Change the Game
The day-to-day issues that come with designing E-Learning courses are all too familiar for those in the field. But with the help of Elai's solution for video creation, companies will be able to deliver better and more tailored courses at a far faster speed than is currently possible.
Use Elai to create custom scenarios in your courses that speak to a certain firm or person. You no longer have to spend hours or days re-creating the scenes. Create E-Learning videos primarily targeted at individuals and businesses!
Localizing E-Learning courses can be difficult and may bring some audience constraints. Elai turns these problems on its head. We can assist you in producing the same video in 65+ languages, as though each language was shot separately for its target audience.
Creating vast amounts of content for courses has become a regular pain. Thanks to Elai's AI-powered virtual avatars, you can reduce both time and expense spent on video creation. Everything is achievable using Elai's solution.
See What E-Learning Videos You Can Create With Elai.io
See below what E-Learning video content you can create with Elai depending on the audience and your goals. Improving the quality of your E-Learning videos is a piece of cake!
Imagine if your institution was known for producing some of the most interesting, inventive, and enjoyable E-learning content on the internet. What difference would that make in your environment? We would love to collaborate with you to give your course content a new voice.
Policy & Compliance Training
It is your responsibility to ensure that all members of your team are informed of relevant policies and regulations. When you deal with E-Learning Video Courses like this, our goal is not only to help you convert complicated policies into more understandable language but also to make the course exciting.
If your product or service is powerful, it is also likely to be robust — which is a better way of saying complex and possibly confusing. We believe you do not want your customers to have trouble with your solution. By guiding people step-by-step, E-Learning video courses may eliminate their anxiety and frustration.
Technical Skills Training
Your employees have to improve constantly. Offering training as an E-Learning video course has several advantages beyond cost, convenience, and efficiency. You boost your workforce's productivity and retention for the long haul.
Keep your sales team up to speed on the latest and greatest services and innovations if you want them to succeed. Whether your sales force is in the office or on the remote, an E-Learning video course can deliver the needed details. Your team will be prepared to answer any questions from potential clients in no time.
Make Maximum Use of AI-Powered Avatars in Designing E-Learning Video Courses
Elai uses real video footage for the creation of video presenters. After that, it is being processed by our AI solution. Visit this 
page 
to learn more about the currently available video avatars. Choose and try any digital avatar from the 
avatar gallery
 to narrate the text in your E-Learning video.
Based on the video footage of you, an AI-generated personalized avatar is created. To create your avatar, all we need is a brief video of you speaking. Here you can 
find out more
 about the requirements. 
Get in touch
 with us if you would like to get a custom avatar today!
Explore More of Elai.io Features for Creating Your E-Learning Videos
Improve the quality of your videos with the Elai.io features below. Discover a large set of incredibly easy-to-use video editing tools and templates! Learn more about them 
here
.
Choose a Time-Saving Solution
Reduce the amount of time you spend creating a video. No need for studios or special equipment. Today, video creation is as easy as pie!
Add Some Spice With Music
Are you looking for the perfect melody to accompany your AI-powered video? Elai.io has you covered. Find a royalty-free tune to use in your next video by searching the stock music collection.
Voice-Over Your E-Learning Videos
You can make any avatar speak in your own voice using Elai.io. Simply read your text, record it, and include the track in your AI-generated video when editing. Record in a quiet room with a microphone for a better result.
3 Reasons Why You Should Use Elai.io for E-Learning Video Courses
Leverage Video Format
Improve your E-Learning courses with the use of videos providing a complete learning experience for your audience. Enhance viewer engagement and help your students absorb complex subjects more quickly!
Train & Upskill
Use video courses to educate your target audience. Engage large groups of students at a time and place that is convenient for them.
Simple for All
Everyone can do it because Elai is so easy to use. We provide such a diverse selection of options that anyone can put together a professional video presentation. With Elai, you can spread your narrative quickly and easily.
Produce Stunning AI-Powered
E-Learning Videos In a Few Steps
Follow this straightforward step-by-step guide and take advantage of easy-to-create E-Learning videos today!
Choose an avatar, background and add desired text to your slide. Use animations, music, slide transitions, and more to take your video to the next level.
Add speech text to the video to make the avatar voice-over the presentation.
Click the "Render" button and wait a little bit. When the video is ready, you will receive the notification via email. Now you are all set!
We live in an age when technology allows us to be more creative. Using AI-powered videos with digital presenters, you can scale your video courses and reach a wider audience. Sign up now to learn how Elai can help you modernize your E-Learning courses.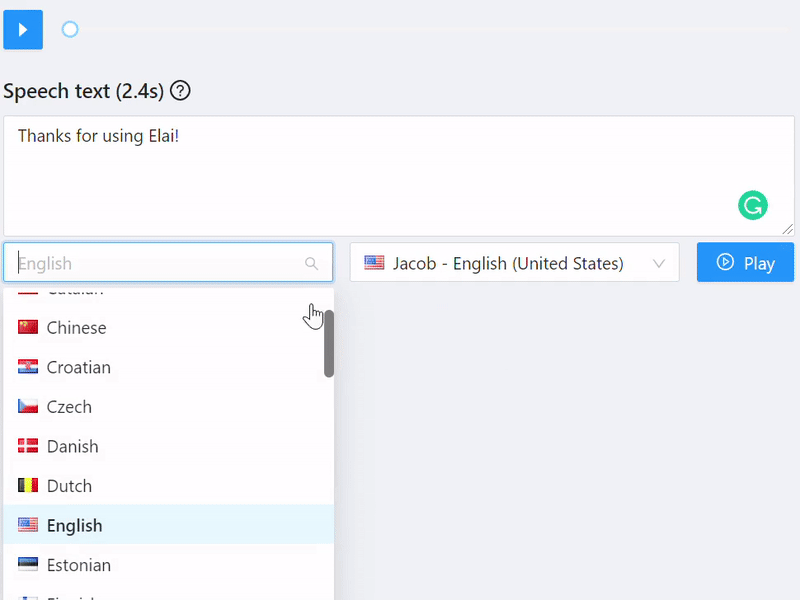 Localization has never been so easy. See how your videos can reach an audience in every corner of the world – all thanks to Elai.io.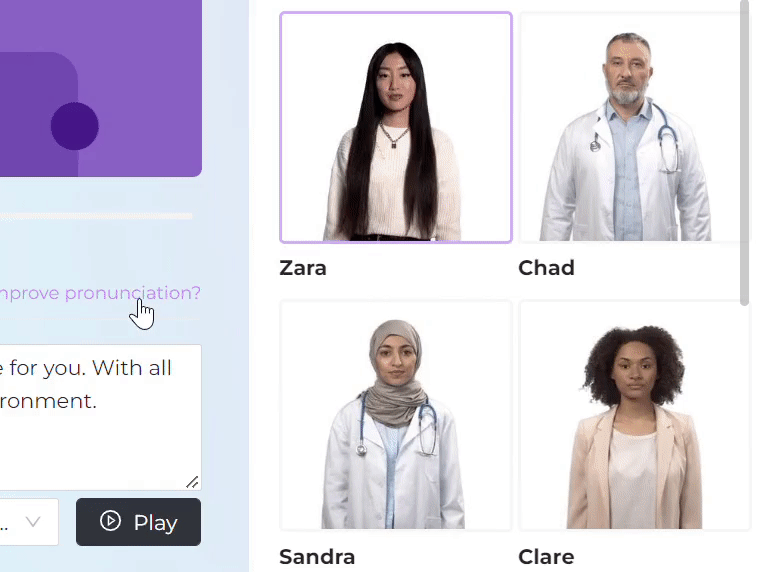 Choose from a wide variety of video presenters
Depending on your audience, Elai.io's library lets you pick a presenter of your choice and use it in any of
your videos.