How Video Editor AI Fully Revolutionizes Industry
Vitalii Romanchenko
Artificial intelligence (AI) has steadily changed how we interact with technology. One great example of a significant change is video editor AI. We all know how resource-demanding editing might be, especially for large-scale projects. A successful application of AI for video editing software can save much money and time on the business side of things. 
Let's dive deeper and discover how to make AI videos and how they transform our engagement with video editing.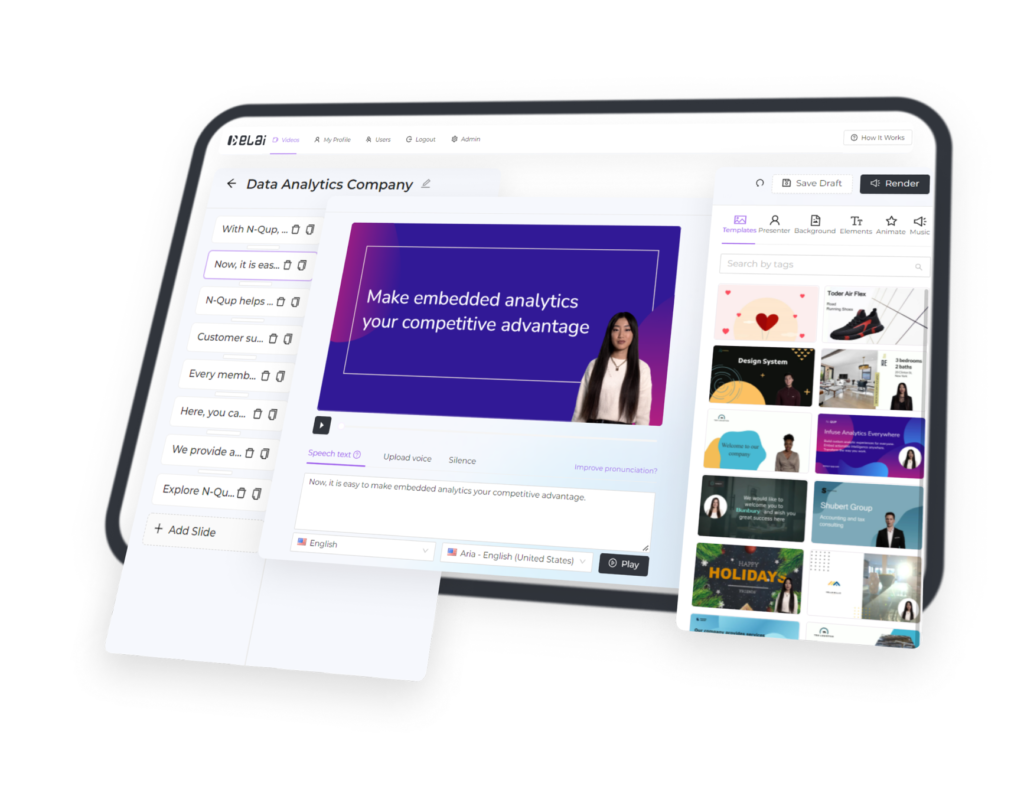 What is video editor AI?
There is no definitive answer to this question as AI video editing is still a relatively new field with dozens of potential applications. For the most part, this technology involves using artificial intelligence algorithms to edit videos automatically. Some use cases of video editor AI technologies include curation, object identification, animations, color calibration, and more.
AI can also choose which shots to include in the final edited video, automatically editing any unwanted footage and adding special effects or transitions. With more tech giants like IBM and Adobe presenting custom solutions, our team also sees a promising future in this technology. As video editing will inevitably be linked to AI, it's crucial to take a closer look at how this technology shines right now.
AI in video editing
We've heard about the potential of AI in video editing, but how exactly is it used right now? Some applications include AI algorithms, which are used for YouTube videos. When uploading a video to the platform, video editors can modify files so they become more visually and contextually familiar. Except for YouTube, video editor AI can be used in color calibration, picture stabilization, and working with visual effects.
Using AI video editors, you can create dynamic slideshows and rearrange the scene, and it eliminates daunting hours of manual editing and post-production. Right now, object recognition is another popular application of AI in video editing. It's the ability to identify particular objects on a video, allowing to add labels and track object movement at ease.
The good news is that AI in video editing also shows decent progress in generating realistic-looking animations. When working with animations, it's generally time-consuming to compile and edit all the visual information in one place. With AI, we expect video editing software to automatically generate decent animations and footage of people and objects in motion.
And let's not forget about text-to-video conversion technologies. With AI, using Elai, you can convert into speech the text you plan to use in the video. Not only is this decision time-saving, but it also can boost conversions and make your content more appealing to customers.
Last but not least is Deep Learning, which is now integrated into video editing software. While the mentioned perks of AI are promising, its combination with Deep Learning can bring outstanding results.
Imagine working with monotonous work requiring many manual edits, filters, and transitions. You can save your priceless working hours by automating mundane production work when capitalizing on the video editing tool with AI.
Advantages of using AI in video creation
As a whole, AI in video creation can bring lots of benefits, both for your video editing crew and final customers. Let's briefly mention some of the most important ones, one by one:
With AI video editing capacities, it's simpler to work with raw video footage because it takes care of some parts of the work. The automation opportunities are far-reaching because the AI video generation platform will adjust based on what it has learned.
Greater flexibility and optimization
Using AI video creator, you'll learn more about optimal shots and angles for your project. Not only will it make your work more efficient, but it can also propose earlier unthought changes, which you haven't even considered. These, combined with filters and transitions, make AI an efficient tool for any video editing project.
If video editor AI makes the most of editing capacities, it can generate a better result for your users. For instance, AI-edited footage can have a better color correction or work faster with object identification. Regardless of the objective, the outcome you get in your video project will exceed your expectations.
The technology is still in its early stages, with more breakthroughs to come shortly. The future looks promising as more companies integrate AI and Deep Learning into their video editing and generation software. That's why it's better to test AI now to get used to it before its mass adoption in the industry.
One last thing to mention is that a video editor AI has unlimited potential for any editing tasks. From object identification, color correction, and object elimination to visual effects and rearranging shots, AI will undoubtedly change how we use video editing software.
The future of AI video editing platforms
The future of AI in video editing is quite bright. With the help of a decent video editor AI, editors can work faster and more efficiently. AI-powered tools can help editors with tasks such as video stabilization, automatic montages, object detection, and color correction. 
In the future, AI will likely be used even more extensively in video editing, potentially automating many tasks currently done manually. It could free up editors to focus on more creative aspects of their work. As of now, consider learning more about AI in video editing by taking a look at the platforms that capitalize on the cutting-edge technology.
Create videos using AI platforms
While tech giants such as Adobe, IBM, and Magisto find ways to integrate AI into their software, a custom AI builder is already available. With Elai, you can create custom videos from the text by choosing an avatar, font, and visual effects. Configure your slides, include speech text, and customize the video however you like. 
The use cases of AI-generated videos are far-reaching, ranging from e-learning and e-commerce to dubbing and official communications. Once you're up for experimenting with the future of AI video generation, Elai is readily available.
Conclusion
AI is reshaping how editors work with video footage and will undoubtedly revolutionize the industry as a whole. While any video editor AI won't replace human specialists, it can automate and speed up work. 
By simplifying mundane tasks and adjusting your workflow, AI has an untapped potential to provide a game-changing experience for content creators. 
So, don't miss a chance and seize the opportunity to change your video editing routine with contemporary AI solutions!