How to Translate a Video to English Effortlessly
Vitalii Romanchenko
We are all familiar with the significance and impacts of translating text, but what about rich media, particularly video? Video is becoming an increasingly important aspect of the customer journey when it comes to selecting products and services.
Compared to text or an image, clients get far more value from videos. They may be the best option to help clients better understand the product. Not to mention the fact that this kind of media is far more convenient to absorb.
Content creators and businesses alike would be smart to consider having their videos translated. To find out why it is worth to translate a video to English and other languages, keep reading!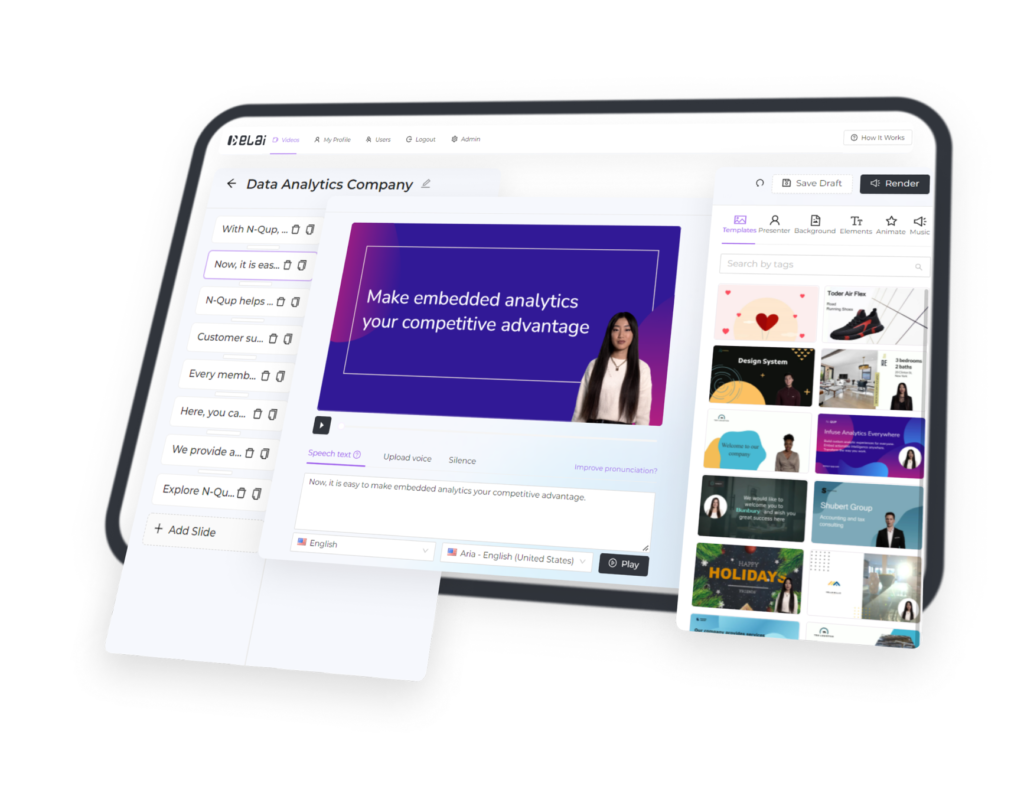 What do statistics say about video translation?
According to Oberlo, around 85% of internet users in the United States alone watch at least one video every month. Customers are 4 times more likely to watch a video showcasing a product than to read a description. Furthermore, marketing-related research has indicated that buyers enjoy their native language:
72.1% of users prefer websites in their native language;
72.4% of customers said they're more inclined to buy a product if all of the information is in their native language;
56.2% of shoppers said they place higher importance on being able to obtain information in their own language than on the price.
It's evident from these statistics that if you want to expand your audience, you'll need to localize your video material. However, with more than 7,000 tongues spoken globally, it can be difficult to choose the languages for translation.
Even more surprising, only 26% of internet users speak English. When looking at the whole picture, you cannot dispute that this is a very little portion of the pie. Statistics show that, after English, these are the top three most often used languages on the internet:
Chinese (19.4%);
Spanish (7.9%);
Arabic (5.2%).
As you can see, videos have a promising future. However, accessing new foreign audiences looks to be a key aspect of getting more views.
Why translate a video to English and other languages: 5 reasons
Translating videos serves many purposes, the most important being that it enhances the customer's overall satisfaction. In general, there are five key reasons to consider translating your video content:
1. Reach out to a larger audience.
When you tailor your content to global audiences, you gain access to users from all over the world and realize the full potential of translated content. Since 89% of YouTube users are outside the United States, attracting non-English speakers essentially guarantees a significant increase in audience awareness.
People are more likely to share your material if it is available in their native language. Creating accessible information for a worldwide audience is more crucial than ever in our globalized society since we all rely on digital technology.
2. Give customers a sense of belonging.
You're missing out on a lot of prospective clients if you don't translate a video to English and other languages. The inclusion of dubbing, or subtitles, affirms them as significant clientele. It's like a message saying, "We appreciate you. Your input is valued."
People are more likely to stick with your brand if they feel appreciated. Furthermore, they're likely to spread the word about you among their social circle. The more people see and share your material, the more open you become to a natural brand's appeal.
3. Increase SEO rankings.
It's helpful to understand how to translate a video to English and other languages and include it on your website. It results in boosting its search engine optimization and bringing in more traffic without the need for new content. Localized videos will enhance the amount of time people spend on your site, which will raise your ranking.
By localizing your metatags, descriptions, and titles, you're ensuring that your videos perform well in all of your language markets. As a result, your video will have a far greater chance of appearing in multilingual searches.
4. Stand out from the competitors.
How many of your opponents have their videos translated? Despite the fact that 75% of customers are more inclined to buy a product in their native language, businesses still do not employ it as a marketing strategy.
You don't only set yourself apart from the competition by translating video material, but also increase your sales chances. A whopping 40% of internet users say they will never buy anything from a website that is not in their native tongue. A company's success depends on its ability to talk to its customers in a language they understand.
5. Improve accessibility.
You need to learn how to translate a video to English to ensure that it is accessible to everyone. As more than 5% of the global total has some degree of hearing loss, having your material translated and subtitled is critical to make it available, searchable, and interesting to a worldwide audience.
An estimated 85% of video views now go with the sound off, according to Digiday, and auto-playing on mute has become usual practice across social media. Transcripts and subtitles allow viewers to grasp your information without the need for audio in cases when audio is inaccessible or unsuitable.
3 types of translated videos that sell
E-commerce videos
You'll want to tailor your video to a certain audience or region if you want it to be as effective as possible. It's also important to localize videos, especially product videos, which will resonate with your target consumers far more than any other kind of media.
Choosing from a wide range of languages and accents available on Elai.io allows you to create a really unique experience for your users. Make e-commerce videos in many languages to appeal to a broader audience and increase your global reach.
E-learning videos
Dubbing and subtitling are increasingly often used to translate e-learning courses. However, both of these methods have serious downsides and reduce video quality significantly. Some e-learning organizations may find it challenging to produce videos in more than one language if they wish to market their courses to a variety of nations.
Many of these problems might be solved with Elai. One video may be made in many languages and appear to be tailored to each audience. Content generated by AI is flawlessly translated without losing quality and may be produced in a matter of minutes and readily incorporated.
News videos
There's a mad scramble for breaking news and catchy headlines. Journalism rewards the first to break a story. Your narrative, whether it's a viral news video or an eyewitness account, should always be the center of attention.
Faster than news networks, respond to events and situations using videos made in Elai builder. You may reach any audience thanks to supporting more than 65 languages, and ensure that your news videos are shared all over the world.
Translate a video to English and other languages with Elai
When it comes to reaching your target audience, nothing beats the power of a well-crafted video. Investing in video translation is a must if you want to make the most of your video assets. It's the only method to gain new foreign clients and improve both your online visibility and search engine results.
Not using translated videos might turn off a huge segment of your audience who might otherwise be interested in your work. This implies that every week, you are missing out on considerable potential revenue.
Save time and money by making videos with Elai and get your videos translated into any language!