Create Impressive AI News Videos with Talking Avatars
Boost the efficiency of your blog with digital news presenters in only a few clicks
React to Events & Incidents with Videos Faster Than News Networks
The rush for breaking news and headlines is on. In the area of journalism, whoever breaks a story first receives all the engagement. Elai's AI solution is right here when it comes to news video creation.
Save Time & Budget
to Cover News
Create a news video in response to a breaking story. No need to ask an expert video producer to help you. Anyone may create an AI-generated news video using rich stock elements, news templates, and animations.
65+ Languages Supported to Reach the Viewer In Any Corner of the World
Localization in a few clicks! Be it a viral news video or an eyewitness report, you always want your story to garner special attention. 65+ languages supported can make your news videos spread around the world – all thanks to Elai.io.
News Video Maker With AI-Powered Presenters
With Elai.io, you can pick a presenter from our library to use in your AI-generated news videos. If you need a custom avatar, we can help you create one at the request.
No need to rent a studio or employ a crew; our platform allows you to create a news video in just a few clicks! Simply paste your text into the box and receive a fully narrated video from our avatars.
Our video avatars are based on video footage of real actors which is then processed with our AI solution. You are able to position them anywhere on the slide, change their size, and add a unique avatar for each slide.
Read more about our currently available video avatars here. Choose any and see how a digital presenter can speak in your news video.
A custom avatar is an AI-powered avatar made with video footage of you. It works just like the other Elai avatars, and it lets you put yourself into breaking news videos effortlessly. Elai team will do most of the work for you.
The only thing required from your side to create a custom avatar is a short footage of you speaking. You can read more about it here. Contact us to request your custom avatar today!
Explore More of Elai.io features as a Breaking News Video Creator
Bring your news videos to the next level with Elai.io features listed below.
Learn more about them here.
You may include everything you want to say about the news. The sophisticated AI solution will help convert your text into speech. The avatar or avatars of choice will voice the text in any of the 65+ languages.
Elai.io makes it easy for any avatar to speak in your own voice. Just upload a recording of it while editing your video. We advise doing it in a quiet room and using a microphone.
Modify the template in a way that suits you most or create a video from scratch. Browse the wide variety of stock images and videos to choose a background or an element to your liking. You can even animate your slides to add more dynamics.
Are you seeking the ideal tune for your real estate video? Elai.io got you covered. We offer royalty-free music tracks that you can use for any kind of your news videos.
3 Reasons Why You Should Use Elai.io for Your News Videos
Increase Traffic
When it comes to attracting visitors to your website, nothing beats the impact of video content.
Encourage Social Shares
Videos get more likes and shares on social media sites than pictures and text combined.
Boost Your Sales
An engaging video can have a significant impact on purchasing behavior, resulting in sales.
Produce Stunning AI-generated
News Videos in a Few Steps
Learn how to make a news video online in 4 easy steps.
Follow this simple step-by-step guide and start creating news videos today!
Choose an avatar, background and add desired text to your slide. Spice up your video with animations, music, slide transitions, and more.
Add speech text to the video for the avatar to voice over during the presentation. Select any speaker from the list to read your text in 65+ languages available.
Click the "Render" button and wait a little bit. When the video is ready, you will receive the notification via email. Now you are all set!
News Video Generation Made Easy
News Video Generation Made Easy
With Elai's solution, you can make compelling videos that tell the latest breaking news. Get a dynamic news video within minutes.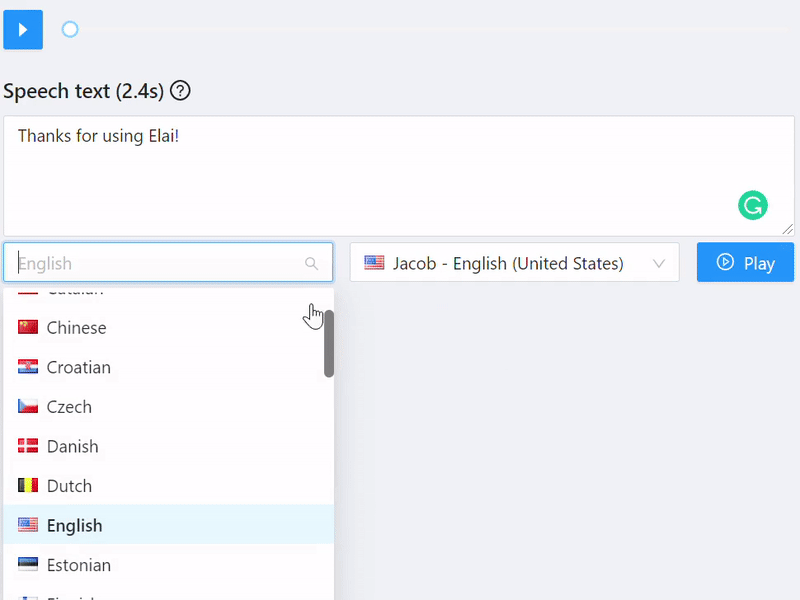 Localization has never been so easy. See how your videos can reach an audience in every corner of the world – all thanks to Elai.io.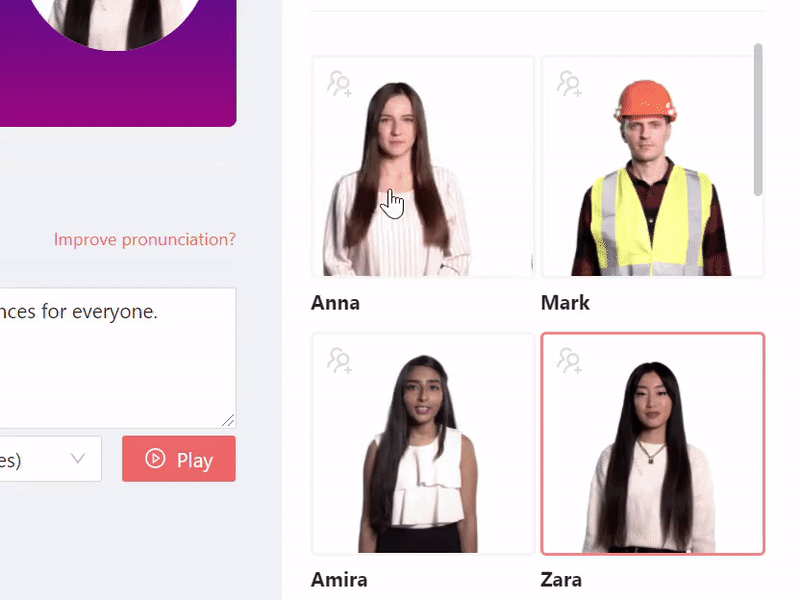 Choose from a wide variety of video presenters
Depending on your audience, Elai.io's library lets you pick a presenter of your choice and use it in any of
your videos.