Turn Your Presentation Into a Video With Elai.io – No Special Skills Needed
Begin making fascinating and captivating videos from presentations with Elai.io today!
Are you looking for the best video presentation solution for your project? It is hard to find a good one when there are so many.
Thankfully, with Elai.io you can build excellent video presentations. From animated explainer videos to HR onboarding videos, there is something for everyone.
We believe you will appreciate the fact that we are not just a video presentation maker. There is a lot more to us. Learn here what you can do with Elai solution today!
Understand the Value of AI-Powered Video Presentations With Elai.io
Discover these compelling features from Elai builder which will let you create
impressive video presentations within minutes!
Change the background to your liking – upload your own image and video or choose from the stock library. Pick some music for your video presentation. Look through Elai library of tracks, or upload your own to apply music to the whole video.
The gallery of premade slides and templates is available for your use! You can choose any, or start from scratch, it is up to you.
Add some interactivity and dynamic to your slides. Apply animation to the whole slide, or customize it for each element.
Include any element to your slide. Be it a piece of text, image, or shape, it all will look great in your video presentation. Enjoy the perks of free animations from Lottiefiles! Simply upload the Lottie JSON URL to have any animation in your video presentation.
Fast & Effortless
Give a new life to your scientific materials, education content, or work-related notes, and turn them into an inspiring video presentation easily.
Localization Made Simple
Elai.io supports over 65 languages, allowing you to create a video presentation that is tailored to your target audience.
Digital Avatar Library
Include an AI-powered avatar in your video presentation - new technology will spark your audience's attention.
Make Your Innovative Video Presentations With AI-Powered Avatars
Elai video presenters are created by using real video footage. Then, it is processed using our AI solution. You may move the avatars around on the slide, modify their size, and add a unique one for each slide.
Read more about our currently available video avatars here. Choose and try any digital avatar to present in your video.
A personalized avatar is an AI-based avatar created from video footage of you. It works in the same way as the other Elai avatars and lets you insert yourself into HR onboarding videos. Lead your newcomer through the company effortlessly!
Elai team will do the rest. The only thing you will need to make a personalized avatar is a short video of yourself speaking. You can read more about the requirements here. Contact us to request your custom avatar today!
Explore More of Elai.io Features
When Making HR Onboarding Videos
Bring your employee orientation videos to the next level with Elai.io features listed below. Enjoy the full sets of video editing tools & templates that are extremely easy to use! Learn more about them 
here
.
Share your company's story in a matter of minutes! Just put your script into the text area and the Elai.io AI solution will assist you in converting your text to speech. The avatar or avatars of choice will voice the text in any of the 65+ languages available.
Thanks to Elai.io, any avatar can talk in your own voice. Simply record and upload it while editing your AI-generated video. It is better to do it using a microphone in a quiet place.
Make any necessary changes to the template, or start from scratch. To create the ideal background, choose from a large selection of stock photos and videos. You can also add movement to your slides by animating them.
Are you seeking the perfect tune to accompany your AI-driven onboarding video? You're covered with Elai.io. To locate royalty-free music tracks for your videos, look through our stock library.
3 Reasons Why You Should Use Elai.io to Make Video Presentations
Boost Productivity
An instructive document or an educational slide deck, it appears better in a video format. With Elai talking avatars, animations, and more, we strive to make your video creation process the most pleasant.
Apply Everywhere
Use video presentations as a tool for video marketing across several platforms. Make video ads, video social media graphics, video stories, and video banners out of your video presentations - all thanks to Elai.
Easy for All
Elai.io is simple to use for everyone. We offer such a wide range of possibilities that anyone may create a professional video presentation. Tell your story easily and effortlessly with Elai!
Create Your First Video From Presentation
Follow this simple step-by-step guide and get started turning your presentations into videos today!
In the appeared window, upload or drag to the area your PDF file. Then, each slide will be converted to a video slide background. To add PPT/PPTX or Google Slides, just export the file as PDF first and upload it here.
Choose an avatar, background and add any text you want in your slide. Bring your video to the next level with animations, music, slide transitions, and more.
Insert speech text into the text area. The avatar or avatars of choice will voice over your script during the video presentation.
Click the "Render" button to have the video from text emailed to you shortly.
Video From Presentation in a Matter of Clicks
With Elai's solution, you can make compelling videos from presentations to use them in any sphere, be it education or corporate communications. Get a dynamic video presentation within minutes.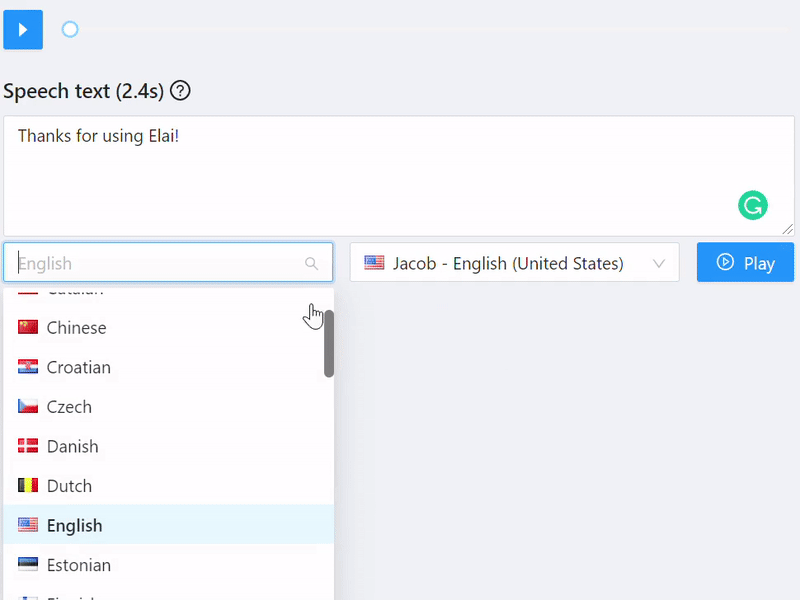 Localization has never been so easy. See how your videos can reach an audience in every corner of the world – all thanks to Elai.io.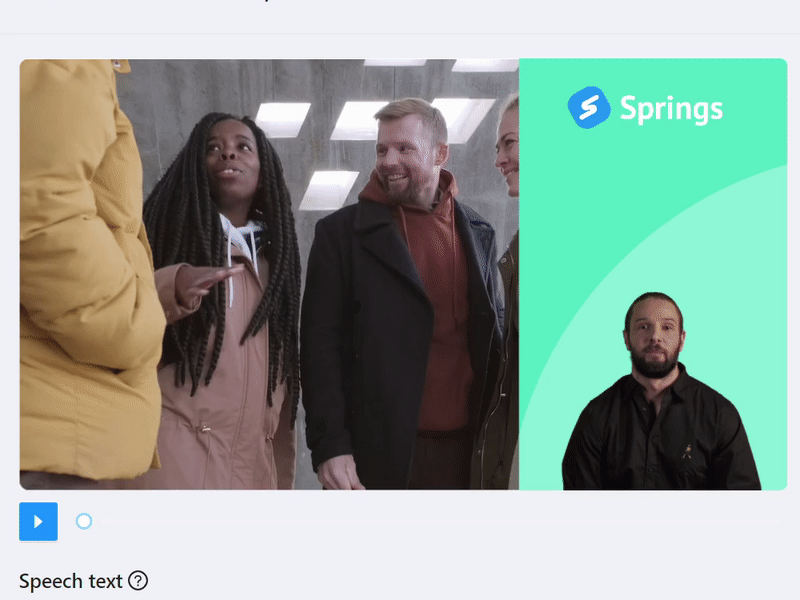 Choose from a wide variety of video presenters
Depending on your audience, Elai.io's library lets you pick a presenter of your choice and use it in any of
your videos.