One Step Ahead: Explore The Main Synthesia Alternatives
Vitalii Romanchenko
Creating videos, whether through recording and editing or using cloud-based tools, can be time-consuming and exhausting. However, Synthesia and Synthesia alternatives offer a solution by providing a nowadays popular and commonly used editing tool for creating Talking Headshot videos with human-like avatars. While Synthesia is effective, it does have some drawbacks. It raises the question of what other alternatives and competitors to Synthesia are available. Some programs like synthesia and software like synthesia to consider include Elai.io, Lumen5, Runwayml.com and Rephrase.ai.
Video consumption has significantly increased in recent years, with the amount of video watched online doubling since 2018. As a result, video content has become a high priority for marketers. While creating videos can be a challenging and resource-intensive process, using AI in modern technology has made it easier and more efficient. If you want to create video content effectively in 2023, consider using one of the top AI video generation software solutions for content creators.
AI video generation software can streamline the video creation process for marketing teams greatly by transforming input such as text, images, and descriptions into a professional-quality video in a smaller amount of time and at a lower cost. One popular use of AI video generation software is text-to-speech video generation, which is ideal for creating how-to videos, training materials, and promotional content. When selecting the best AI video generation software for your needs, consider factors such as ease of use, available resources for tutorials and training, resolution and quality, cost, and customer reviews. Many software solutions offer free trials, which helps evaluate their suitability for your needs.
Top Synthesia.io Free Alternative and Competitor
Elai.io - leading AI video maker
Elai.io is an all-in-one video maker and editor, a great Synthesia alternative that utilizes AI-powered avatars to make recording and editing videos effortless. It is a top pick as an alternative to Synthesia because it allows even those with little to no experience to create professional videos with speaking avatars. Elai offers a range of voices in over 65 languages and provides templates for various occasions, making it easy to connect with viewers through online and offline channels. To use Elai, simply select your favorite AI avatar, type in or paste your script, click "Render" and your video will be ready within a few minutes. The final, rendered version of the video will feature a lifelike spokesperson narrating your typed-in script in a realistic manner and accent, using natural gestures and movements to deliver your message. The Elai video templates also make it simple for anyone to create high-quality videos quickly, regardless of their editing or directing skills, background, and knowledge. 
Clone your voice and use it in your videos
Elai also allows you to use your own voiceovers or images in your videos. You can upload your own audio files – and the virtual presenter will synchronize with your voiceover. You can also upload or design a custom portrait, such as a photo of yourself or any cartoon character to narrate your script. This AI video maker offers the most diverse selection of options when it comes to creating a custom avatar. 
Elai provides you with a balance of simplicity and advanced features, making it easy to use while still having a wide range of options. What is more, creating an account and using the software to generate AI-based videos is free, which makes it a synthesia.io free alternative.
Some of the top features of Elai include
Article-to-video converter. Just paste the link to an article of your choice into Elai Builder and the video will be generated based on the content of that article.
Elai.io + GPT3 integration. Just type the topic you want your video to be about and it will be generated.
Translate your video templates in 69 languages in 1 click. 
A wide selection of customizable video templates in multiple languages;
A user-friendly editing panel that allows you to create and edit videos quickly with AI assistance;
The ability to add captions and overlays of text or images to make your videos more engaging and interactive;
The option to use a talking photo or choose from a range of real human avatars (or choose Elai the cat, the company's mascot);
The ability to import PPT or PDF files for use in your videos.
With such features, you can become a professional video maker in no time and with just a little effort in this synthesia ai alternative!
As with every application, Elai has its pros and cons. Let's see what they are so you can decide whether it can be a fit for your case and business. 
The pros are:
Elai offers new features every week;
A wide selection of accents and languages;
A wide selection of digital human avatars, including the option to upload your portrait;
Enables you to create text-to-video content in minutes;
Offers a free trial credit;
Helps improve customer experiences with personalized and quick responses;
Automates repetitive processes, allowing you to focus on more impactful tasks;
No technical or editing skills are required;
No distribution limits;
Offers a range of creative video templates;
A user-friendly interface.
The cons are:
Might be more user-friendly for PC users; mobile users only have access to the demo page;
Generation speed may slow down during periods of high traffic;
Pricing information is only available upon login.
Elai VS Synthesia: What to Choose
Elai and Synthesia are both AI video generation tools, but they have some differences that may make one more suitable for your needs than the other. Elai is designed with beginners in mind and offers a range of computer-generated and photo-generated avatars. At the same time, Synthesia is geared more towards skilled users and larger enterprises and offers human-like avatars. Elai also allows you to access the tool without creating an account in advance, while Synthesia requires an account. In terms of features, Elai offers the unique "Talking Photo or Face" feature, while Synthesia is better suited for creating more in-depth videos. Ultimately, the choice between Elai and Synthesia depends on your specific needs and preferences.
Runwayml.com: Video Editing Software with AI Magic Tools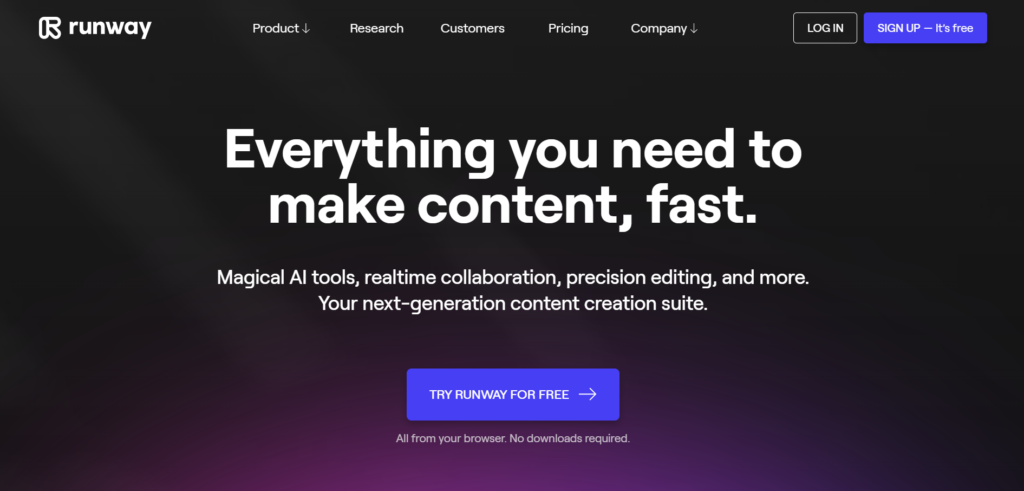 Runwaymlt is an affordable tool that offers a range of features like video editing, inpainting, green screen, and motion tracking. 
But we are here to talk about AI, and Runway does not dissapoint: there are numerous AI tools inclusing text to image generation, infinite image, super-slow motion, and image to image. There is certainly something for every video creation and editing enthusiast. 
The main advantage of the platform is that it offers a variety of tools that can be both beginner-friendly and fit for advanced level creators. It can definitely be a great starting point in learning video editing, or it can be an impactful contribution to your collection of tools and applications. 
The platform lets you edit online and collaborate with anyone who you share the special link with in real time. There are various video temapltes you can choose from to get started on your creative process. 
Another Alternative: Lumen5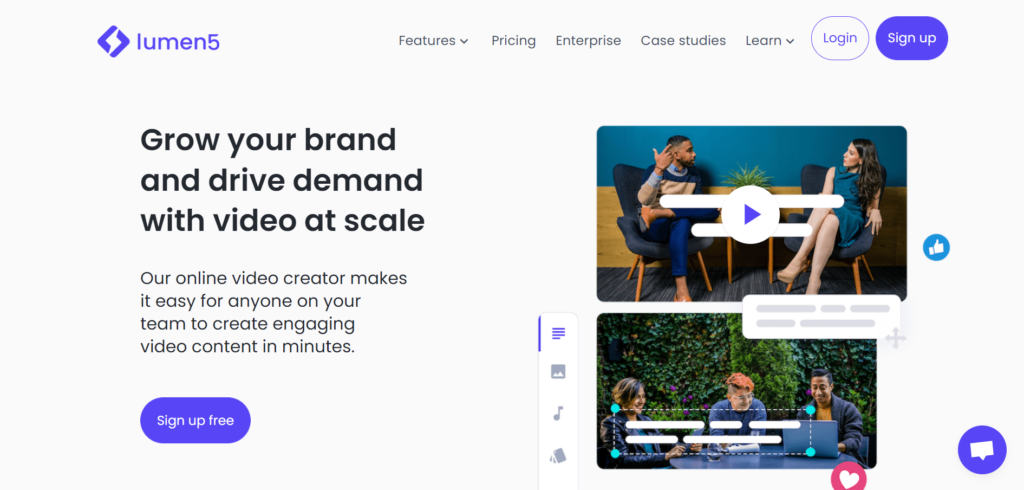 For corporations and companies to produce training or experience to make captivating video content, there is a platform called Lumen5. Lumen5 is a source that encourages the marketing teams to advance because this tool's resources are beneficial and simple to use for raising business engagement.
The AI at Lumen5 finds quotes that best describe your article or upcoming video. Additionally, this tool contains a brand-new voice-over capability; if you choose it, you must record your voice-over in a single take.
Top Lumen5 features include automated workflow, video subtitles, changing the video resolution to 480p, 720p, or 1080p. Lumen5 also offers video optimization, that gives you the option to enhance each video's effectiveness and conversion rates. You can also use it to edit your movies and add watermarks and trademarks.
However, Lumen5 does not offer any AI avatars, which can be an important drawback for many content creators. 
Rephrase.ai: AI video generation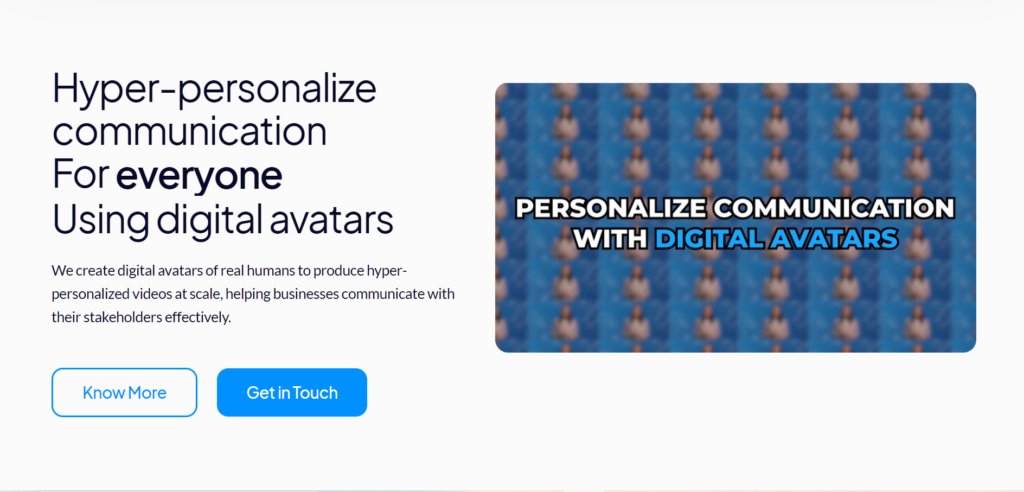 Rephrase.ai is another Synthesia substitute for content producers seeking top-notch AI video creation tools. With text-to-video, human-like digital speakers, and personalized avatars, it provides many of the same features as the competitors.
Rephrase.ai offers a straightforward text-to-video feature, just like many other AI video production software alternatives. Without a voiceober, using text-to-speech, a high-quality video may be made in only a few minutes by inputting your text. The software will start to work once you upload your text and select an avatar (or upload a custom avatar).
Here are some features that Rephrase.ai offers to its users: 
Lead generation: Rephrase.ai was specifically created for marketing. To entice viewers to go to your website, place a purchase for a product, or do anything else you desire, you can simply incorporate a CTA label into your video. It's a useful feature to assist your company generate more leads. 
Professional-level video. High-quality videos are produced by Rephrase.ai for use in commercial communications. 
Hyper-personalized, It produces videos that are customized to your needs and individually interacts with stakeholders using genuine human avatars.
Promoting marketing initiatives: leading brands and businesses have used this technology to develop campaigns and messages.
Considering Rephrase.ai as a beginner in AI video making is not the best option, though: it may feel challenging to use and the pricing plans might be more fitting for the users who are more acquainted with the technology and have defined ambitions plans.