Make Stunning Employee Onboarding Videos From a Text
Create HR Onboarding videos with Elai.io to make the
process the most engaging
Take Your Onboarding to the Next Level
In the recruitment process, onboarding videos are proving to be an effective tool. Video is always a wise investment, whether you're training new employees about your company's culture, or detailing your key principles.
Embrace Videos Into Your Employee Training Process
These depict your company's culture, the newcomer's team, and the tools they'll be using in their new position. Videos provide newcomers a peek of what it's like to work with you – and Elai is here to help with it.
HR Onboarding Video Maker With AI Presenters
With Elai.io, you can pick a presenter from our 
library
 to use in your AI-generated HR onboarding videos. If you need a custom avatar, we can help you create one at the 
request
. No need to rent a studio or employ a crew; our platform allows you to create an orientation video in just a few clicks! Simply paste your text into the box and receive a fully narrated video from our avatars.
Elai video presenters are created by using real video footage. Then, it is processed using our AI solution. You may move the avatars around on the slide, modify their size, and add a unique one for each slide.
Read more about our currently available video avatars here. Choose and try any digital avatar to present in your video.
A personalized avatar is an AI-based avatar created from video footage of you. It works in the same way as the other Elai avatars and lets you insert yourself into HR onboarding videos. Lead your newcomer through the company effortlessly!
Elai team will do the rest. The only thing you will need to make a personalized avatar is a short video of yourself speaking. You can read more about the requirements here. Contact us to request your custom avatar today!
Explore More of Elai.io Features
When Making HR Onboarding Videos
Bring your employee orientation videos to the next level with Elai.io features listed below. Enjoy the full sets of video editing tools & templates that are extremely easy to use! Learn more about them 
here
.
Share your company's story in a matter of minutes! Just put your script into the text area and the Elai.io AI solution will assist you in converting your text to speech. The avatar or avatars of choice will voice the text in any of the 65+ languages available.
Thanks to Elai.io, any avatar can talk in your own voice. Simply record and upload it while editing your AI-generated video. It is better to do it using a microphone in a quiet place.
Make any necessary changes to the template, or start from scratch. To create the ideal background, choose from a large selection of stock photos and videos. You can also add movement to your slides by animating them.
Are you seeking the perfect tune to accompany your AI-driven onboarding video? You're covered with Elai.io. To locate royalty-free music tracks for your videos, look through our stock library.
3 Reasons Why You Should Use Elai.io for HR Onboarding Videos
Boost Understanding
Seeing a product, software, or a set of tools in action makes it simple to understand how they work. Plus, videos provide a clearer picture of the roles.
Give an Inside Look
Videos provide newbies with a glimpse into your company's flow. Fantastic for remote employees, HR onboarding videos reveal human faces and thus engage them more.
Easily Adaptable
Do you have an onboarding film in your new employee orientation kit? It can be reused. Share it online to demonstrate your company's culture to a larger audience.
Produce Spectacular AI
Onboarding Videos in a Few Steps
Learn how to make an HR Onboarding video in 4 easy steps.
Follow this simple step-by-step guide and start creating work orientation videos today!
Choose an avatar, background and add desired text to your slide. Use animations, music, slide transitions, and more to take your video to the next level.
Add speech text to the video to make the avatar voice-over the presentation.
Click the "Render" button and wait a little bit. When the video is ready, you will receive the notification via email. Now you are all set!

No need for a studio
Create amazing videos with real human presenters from the comfort of your workplace. Forget about the struggles of finding a studio and coordinating a crew.
Videos just from text
Transform your script into compelling HR onboarding videos with ease. You can get a fully narrated video only by pasting your text into the text area.
Edit without reshooting
You are no longer need to return to the studio to reshoot your materials. It is now simple to log into your account and edit the video to your liking.
HR Onboarding Video Within Clicks
HR Onboarding Video Within Clicks
With Elai's solution, you can make compelling videos that introduce new employees to your company. Get an awesome work orientation video in a few minutes.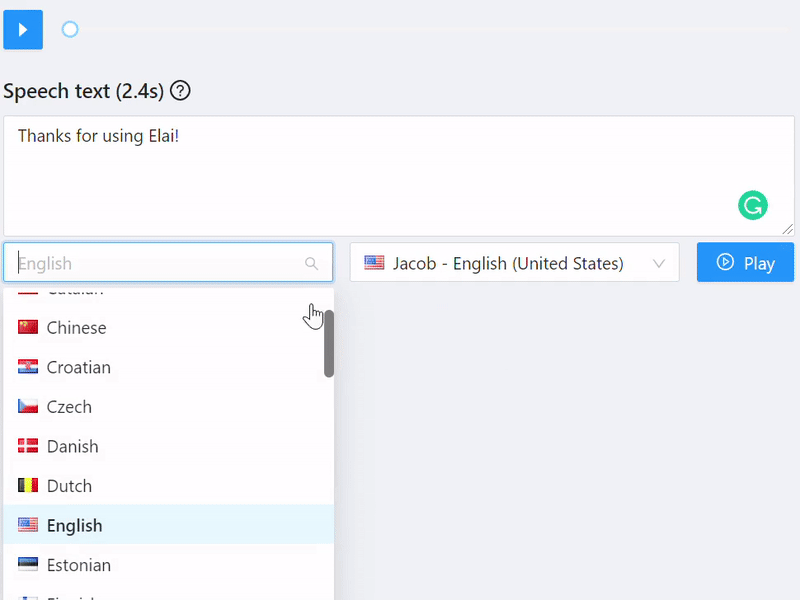 Localization has never been so easy. See how your videos can reach an audience in every corner of the world – all thanks to Elai.io.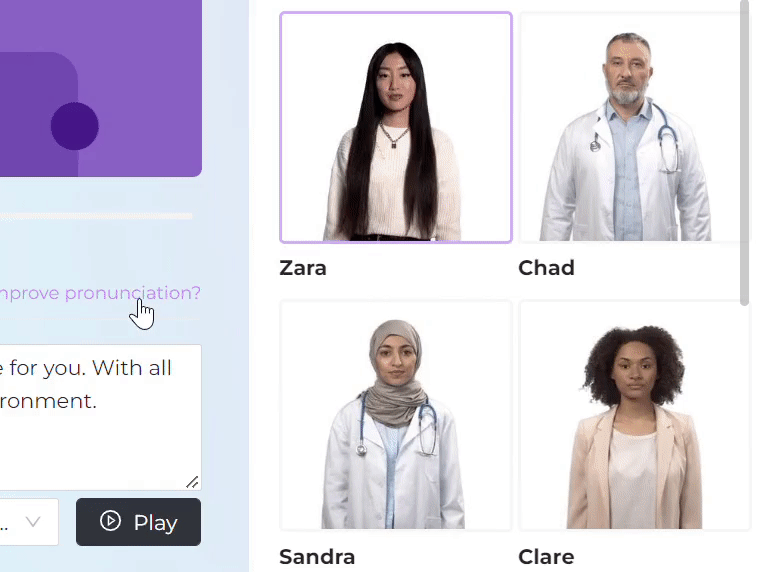 Choose from a wide variety of video presenters
Depending on your audience, Elai.io's library lets you pick a presenter of your choice and use it in any of
your videos.