User-Friendly Real Estate
Video Maker
Are you a realtor or a real estate agent looking for cutting-
edge ways to demonstrate your properties?
Elai.io offers a simple and efficient solution to help you enter
the crowded market with captivating real estate videos.
Studies show that video-supported real estate listings see a colossal 403% increase in listing inquiries. It is a fantastic tool to showcase your expertise and help your business convert more clients.
If you are seeking a solution for building trust and getting your name out there to convert more clients, here is why you should choose Elai.io.
Reasons to Use Elai.io as a Real Estate Video Creator
Easy-to-Use Creation Tool
No special skills required, make an awesome real estate video with a real human presenter effortlessly.
Reduce the precious time spent on the creation of a real estate video, no need for studios or special equipment.
Localization in a few clicks! 65+ languages supported can make your real estate videos reach your client in every corner of the world – all thanks to Elai.io.
Real Estate Video Maker with
AI-Powered Avatars
With Elai.io, you can choose a presenter from our library and use it in any of your real estate videos. If you need a custom avatar, we are able to do that as well upon your request.
No need to rent a studio or hire a crew, our platform helps you create your real estate video only in a few clicks! Just paste your text and get a fully narrated video by our avatars. Moreover, by use of an AI-powered video avatar, you will get your clients curious and fascinated.
Our video avatars are based on video footage of real actors which is then processed with our AI solution. You are able to position them anywhere on the slide, change their size, and add a unique avatar for each slide. Read more about our currently available video avatars 
here
. Choose any and see how a digital presenter can speak in your real estate video.
A custom avatar is an AI-powered avatar made with video footage of you. It works just like the other Elai avatars, and it lets you put yourself into real estate videos effortlessly. Elai team will do most of the work for you.
The only thing required from your side to create a custom avatar is a short footage of you speaking. You can read more about it here. Contact us to request your custom avatar today!
Explore More of Elai.io Features
as a Real Estate Video Creator
Bring your real estate videos to the next level with Elai.io features listed below.
Learn more about them here.
You may include everything you want to say about the estate, whether it is the interior space or the yard, the roofing, or the tiling. The sophisticated AI solution will help convert your text into speech. The avatar or avatars of choice will voice the text in any of the 65+ languages.
Elai.io makes it easy for any avatar to speak in your own voice. Just upload a recording of it while editing your video. We advise doing it in a quiet room and using a microphone. Imagine you are walking the viewer through the house, room by room.
Modify the template in a way that suits you most or create a video from scratch. Browse the wide variety of stock images and videos to choose a background or an element to your liking. You can even animate your slides to add more dynamics.
Are you seeking the ideal tune for your real estate video? Elai.io got you covered. We offer royalty-free music tracks that you can use for property and neighborhood tour videos, real estate agent bios, and more.
If you want to show someone the property, a video is the best thing. According to the studies, 46 percent of buyers found video tours to be essential in their home-buying process.
Create Your First Real Estate Video
Looking to create an effective video to sell your own home or a client's home? Follow this simple step-by-step guide and get started making your real estate video today!
Choose an avatar, background and add desired text to your slide. Spice up your video with animations, music, slide transitions, and more.
Add speech text to the video for the avatar to voice over during the presentation. Select any speaker from the list to read your text in 65+ languages available.
Click the "Render" button and wait a little bit. When the video is ready, you will receive the notification via email. Now you are all set!

Real estate videos are designed to help you sell your own home or a client's home and provide the best value for potential new clients. If you're seeking to foster your real estate business with videos, Elai.io is here to help.
For a specially filmed video, you can expect to pay at least $225 for 30 seconds, but the price will rise depending on post-production editing services. We at Elai.io suggest you pay a much less price, spending only a few minutes of your precious time and getting a compelling result.
You need to script the video, stage the house, and use quality equipment for filming the video footage. Elai.io will help with the rest. Equipped with our intuitive editing tools, you are all set to make expert use of real estate videos to improve your business!
Create Real Estate Videos Online With Just a Click
Create Real Estate Videos Online With Just a Click
Give your business the sales push it needs with amazing real estate videos that will take it to the next level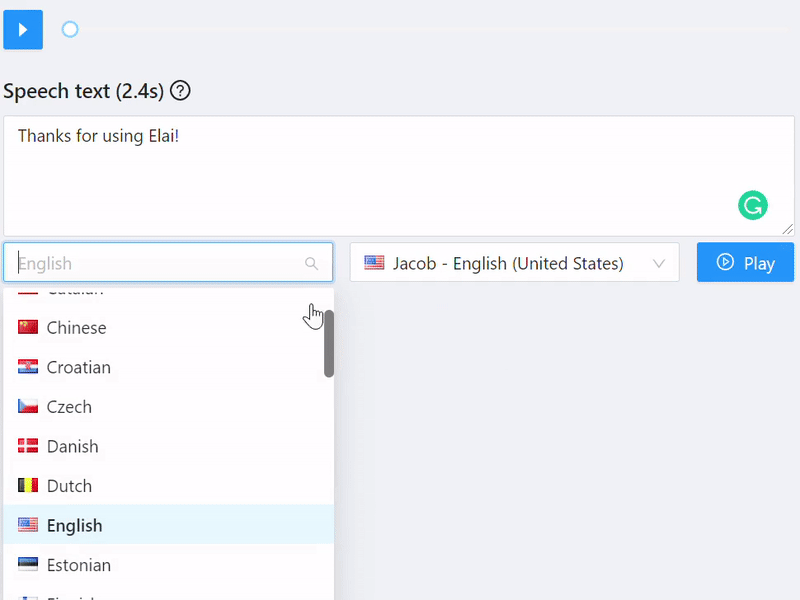 Localization has never been so easy. See how your videos can reach an audience in every corner of the world – all thanks to Elai.io.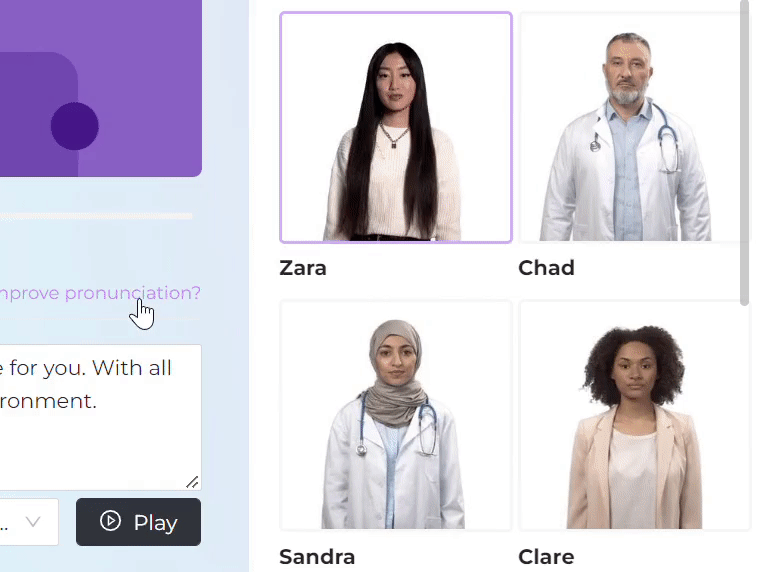 Choose from a wide variety of video presenters
Depending on your audience, Elai.io's library lets you pick a presenter of your choice and use it in any of
your videos.