3 Colossyan Alternatives and Competitors You Should Consider
Vitalii Romanchenko
If you're looking for more independent, cutting-edge solutions for your digital needs to create memorable video content, you're in luck!
There are many technology brands that value quality while respecting your privacy and individuality. In this article, we'll introduce you to some of them. You'll have the opportunity to choose the one that best suits your needs.
After that, you will definitely no longer feel vulnerable – let's go beyond the norm and open up a universe of top-notch and empowering alternatives.
Whether you're looking for an unconventional approach to solving a traditional problem or are just looking for something refreshingly unique, our selection promises to ignite your video maker creativity and spur you on to the next big breakthrough.
Sometimes it can be hard to make an informed decision when you consider the technology world has to offer today.
We invite you to sit back and keep reading to find out why it's important to make informed technology choices and where you should start looking now!
What Colossyan.ia Proposes to Customers?
🤔
Colossyan ai creator is a video-generating tool that combines the cutting-edge technology of artificial intelligence with real-life actors and voices. It allows you to create professional studio-quality videos. Yes, you can save your time and money on production and editing, for example. 
However, there are a few rough edges in this program that might constrain your creativity.
Colossyan ai offers good options for creating avatars, but users may find it harder to configure some of the settings. As a consequence, they may spend more time and effort working with the software.

Colossyan creator ai can sometimes struggle to cope with animations. The motion graphics may be slightly slowed down, which may not always suit the particular needs of the user.

Moreover, it lacks some of the advanced tools and features found in other video editing software we are going to talk about further.

There are some areas that should have been improved. For example, lip sync, which at the moment is still not perfect.

Colossyan creator ai is more expensive than some of its competitors in the market. 
Consequently, many folks are scouting out alternative software that can offer up more impressive animations that better fit the bill for their modern video projects.
Luckily, there are plenty of other tools available that can help you achieve your desired results. For instance, Elai.io, Pictory.ai and Canva are three popular alternatives that might match your needs perfectly.
The world has gone wild for videos! In a mere few years, the amount of time spent watching videos on the internet has skyrocketed. This has brought forth an amazing opportunity for marketers to hop aboard the video train and juice up their strategies. But alas, creating a video can be a bit of a bugbear. The process can be plodding, prolonged, and quite pricey.
Revolutionary technology is changing the game for video content creation. AI-powered video generation software is the solution you've been searching for – now, creating captivating videos is a breeze.
How Not to Get Wrong While Choosing the Best AI Video Generation Software 🎬
As a marketer, have you ever wished you had a magic wand that could turn your ideas into professional-quality videos? Well, AI video creation software might be just the right option.
With just one video clip and some text or images, this software can create a masterpiece in minutes, leaving you more time, energy and resources to focus on other tasks.
One of the great things about AI video creation software is the text-to-speech feature. Amazing, isn't it?
All you have to do is enter your script and voila! The software will create a video that syncs perfectly with your words.
It doesn't matter if you're going to create a training video for your employees or if you want to generate something for your close circle of friends. AI video authoring software will definitely take your request into consideration and create something really memorable.
We can't mention the fact that many AI video creation software solutions offer free trials so you can see the magic in action for yourself. Trust us, it's worth a try.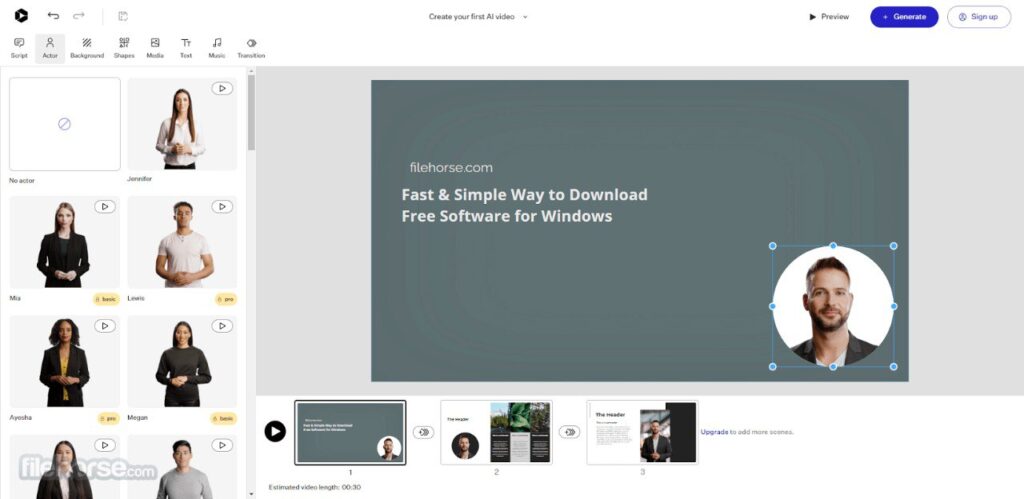 Top 3 Colossyan Alternatives 🤗
Colossyan creator is a fine tool for creating impressive talking-head videos, but it's not the only option. Here are 3 of our top picks for alternative AI video generation software:
1. Elai.io: This software offers an array of tools to create stunning videos with realistic avatars and animations in no time at all.
2. Pictory.ai: This platform allows you to create animated videos from images with the help of their AI-powered text-to-speech feature.
3. Canva: The app is open to anyone familiar with the concept of design. You can use the tool to process photos, videos, make presentations.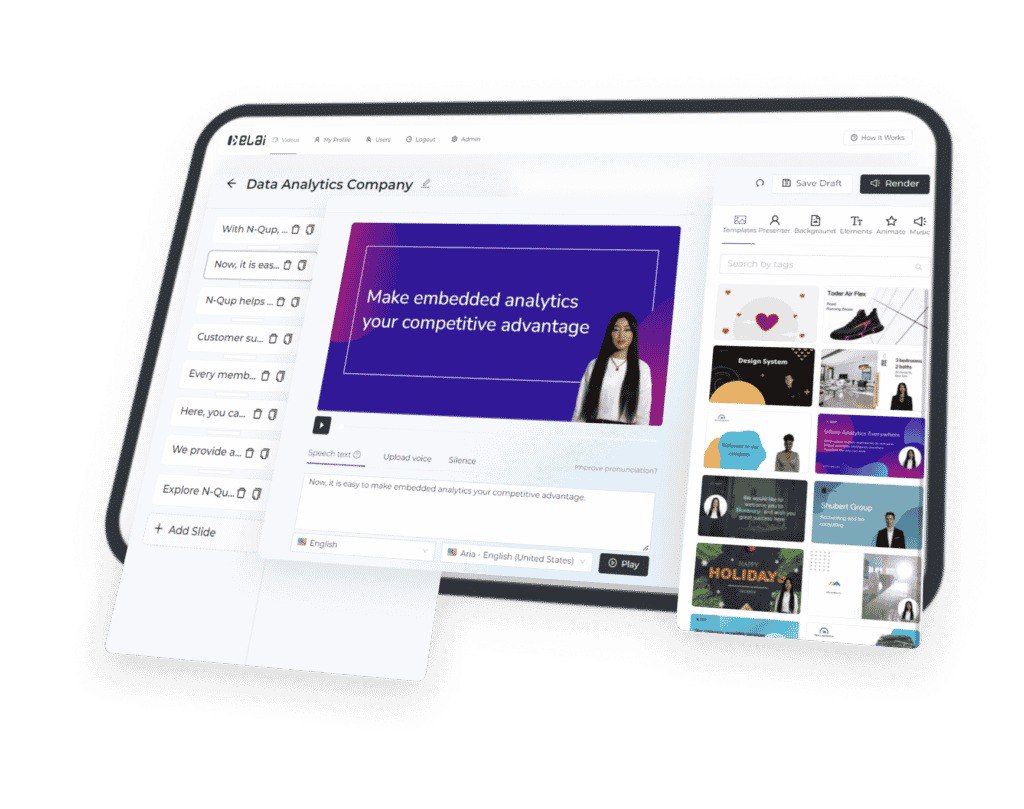 Meet Elai.io – the game-changing video creation and editing platform that's taking the world by storm. With its all-in-one platform and revolutionary AI-talking avatars, creating incredible videos has never been easier.
With a wide range of avatars available, you can choose the one that best suits your needs. Forget cumbersome software – Elai.io is the way of the future for those who want to revolutionise their video content!
Elai.io is a game-changer for video production, offering effortless video recording and editing. With AI-talking Avatars, Elai.io creates professional-looking spokesperson videos with little to no experience required. Plus, it's not restricted by language, with over 65+ languages to choose from.
With dozens of templates, even those with no editing or directing experience can create stunning videos in minutes. Furthermore, you can easily craft a personal template from scratch that would reflect your brand identity.
Transforming amateur videos into professional-looking masterpieces has been made easy with a user-friendly interface that requires no editing or directing skills. Indulge in the art of video creation like the experts with just a few clicks! Step into the world of Elai.io and embrace the power to craft your perfect digital persona!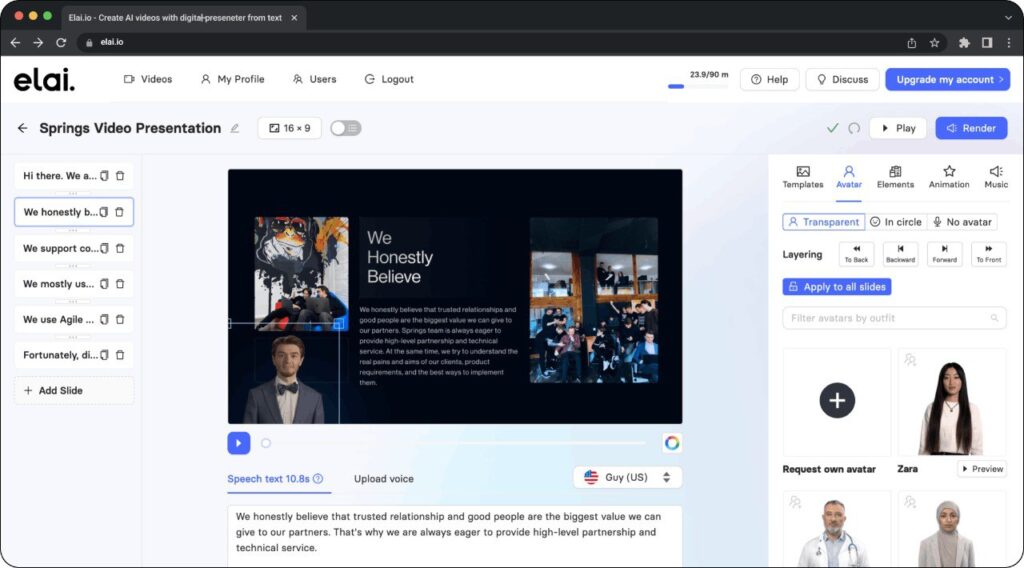 Easy-to-use interface
Text-to-video generation with GPT3 integration
AI talking avatars
Free API access
65+ languages supported
Dozens of templates are available
Quick support
Create high-quality videos quickly and efficiently
User-friendly pricing
AI Talking Avatars: Turn your text into a real human voice with just a few clicks.
Animation Library: Access an extensive library of animations, special effects and backgrounds.
There's a text-to-video option that allows you to turn blog posts and articles into amazing videos.
Language Support: Create videos in over 65+ languages.
Templates: Create professional videos using dozens of stunning templates or use your potential to make your own custom template from scratch.
Social Media Integration: You can easily share a link to the video on the social network you want. A few clicks and voila.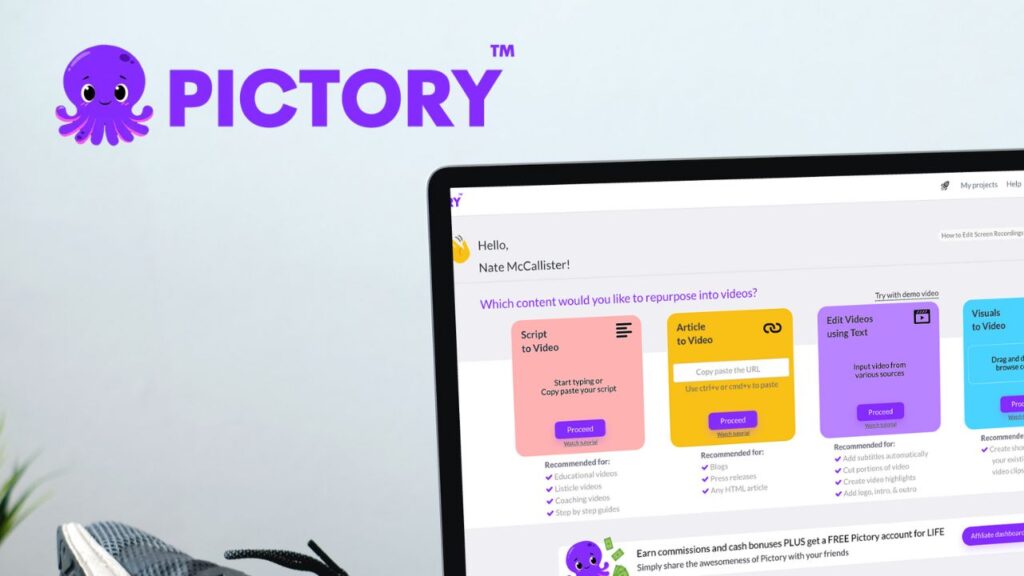 Pictory.ai allows you to create and edit diverse videos. You don't need to be technically proficient at all to make something worthy and interesting.
The platform offers capabilities, which allow customers to personalise the videos with logos, colours and fonts to establish brand identity.
The tool allows you to edit captions and add transcriptions with automated suggestions. It automatically highlights the key moments in webinars and other long videos, saving time and effort. 
Easy to use
Sound synchronisation
User-friendly interface
Email notification
Custom voice-over
Ability to add title and end card
Custom voice-over
Not all Premium features are available with a standard subscription
Limited title text animation
Top Features of Pictory.ai 😇
The customer doesn't spend a lot of time on creating videos.
There is an option to add sound.
The cost is not very high, allowing the user to save on their budget.
Text-based video creation.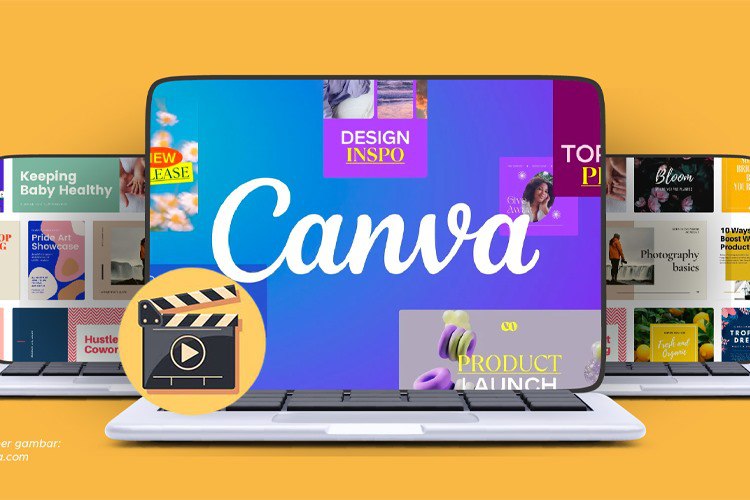 This design app is dedicated to creating graphics, videos, and complete websites! And you don't need to be a pro to use it.
Whether you're well-versed in graphic design, or just starting out, Canva's user-friendly interface is designed to make your life easier and your creations more impressive.
Canva has a wide library of templates and images, allowing the user to create projects ranging from videos to flyers.
With Canva's editing tools, where you can switch up the fonts and colours of your templates with ease.

Easy-to-use interface and user-friendly design
A wide range of templates to choose from
Photo and video editing options
A large number of great elements are only available to Canva Pro users.
You cannot download a PowerPoint presentation in PPT format.
Limited design customization.
Restricted file types and sizes.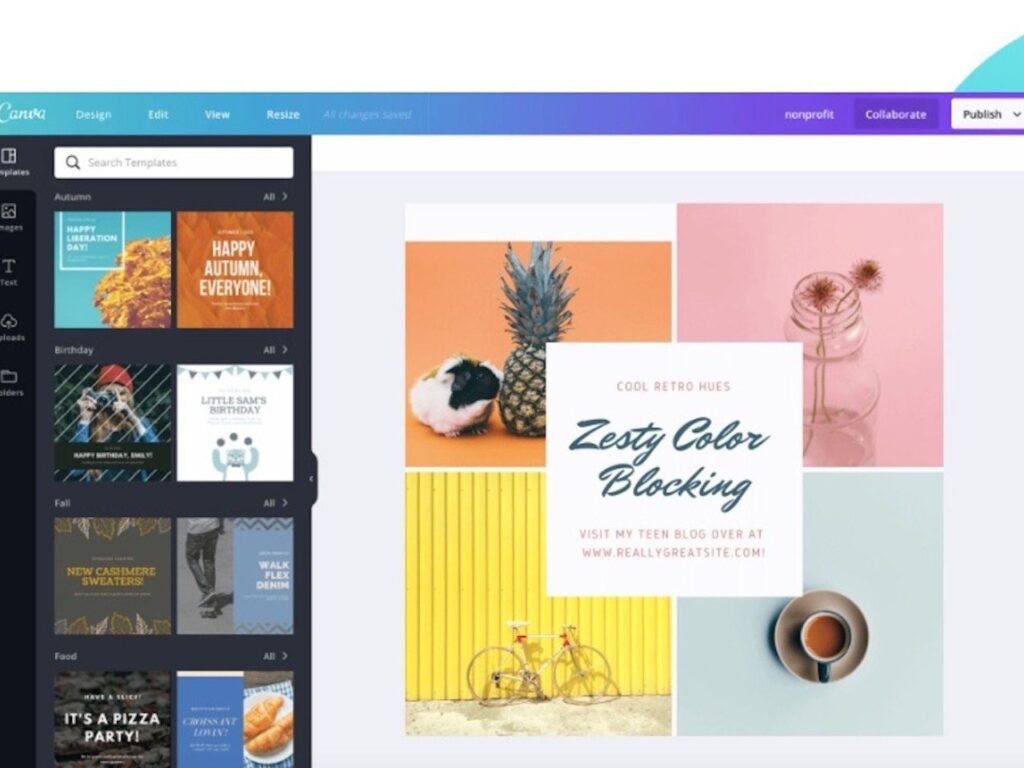 With a quick click here and there, you can jazz up your text, visuals, or anything else on your project.
The tools are so user-friendly, you'll wonder why you haven't been using them all along!
Canva has numerous professionally-designed templates for all sorts of projects, from posters and flyers to presentations and social media posts.
Canva's intuitive drag-and-drop design platform makes it easy to create beautiful designs in minutes.
Tired of using the same old avatar editing tool? It's time to spice things up and explore some cutting-edge alternatives! We've scoured the web and compiled a list of the hottest options that will revolutionise the way you create content.
Whether you're looking to add some pizzazz to your social media profiles or take your video game character to the next level, these tools have got you covered. Don't settle for mediocrity, unleash your creativity and make your content shine with these game-changing avatar editors.
Although the Colossyan Creator AI tool is one of the most popular software options available, it also comes with certain disadvantages. But, as we have seen, there are decent alternatives like Elai.io, Pictory.ai and Canva.
Having studied in detail their main advantages, you now have the opportunity to choose the application that suits your needs the most. Do not forget to consider the cost of the application and the features that you need.
You can also check out user reviews and ratings of each option before making your decision. This will give you a better understanding of how well the application works, how often it is updated, and what features and support it offers.
With these points in mind, you are sure to find the perfect application for your business. Once you have chosen the right application, you should properly implement it into your workflow and take advantage of its features.
Each of these three provides its own set of features that help designers create something truly brilliant; from the ability to preview designs on selected devices with Elai.io, to the intuitive drag-and-drop interface of Pictory.ai or the likes of powerful photo editing on Canva – users have a range of options to choose from in order to produce work that suits their exact needs.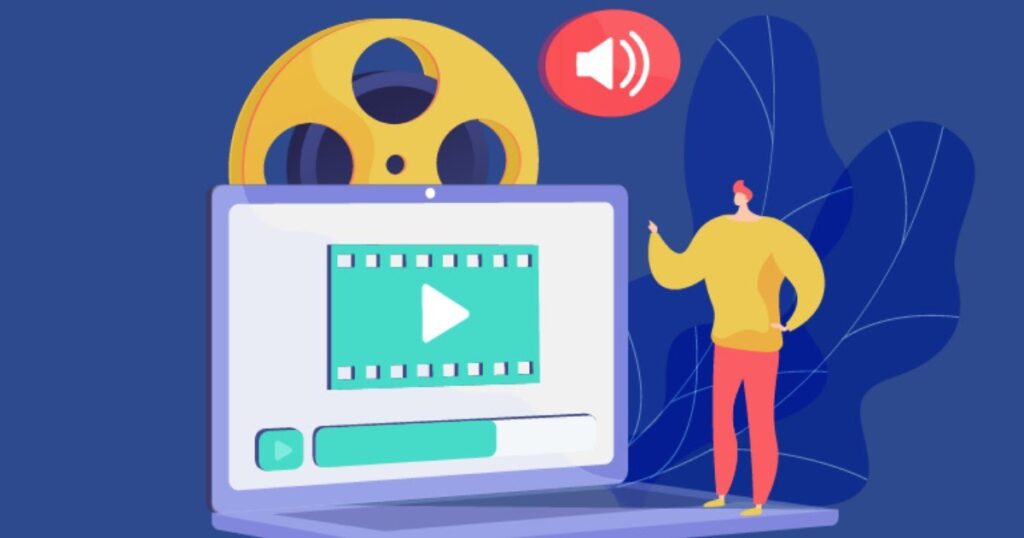 Colossyan.com is a good tool for editing and creating avatars – however, there are plenty of other options out there that offer different features and capabilities. 
Whether you're looking to add some extra flair to your profile photos or give your video game character a makeover, use the selection of alternatives above to find the best software fit for the job.
Get creative and produce some eye-catching content by taking advantage of the powerful features offered by Elai.io, Pictory.ai or Canva, depending on your needs.
Whether you're a professional designer or just starting out, each of these services provides an easy-to-use platform that anyone can master in no time. So don't be afraid to explore the wide range of creation tools available – there's something out there that will suit your individual needs and preferences.