How PetroShore engages viewers with digital avatars
See the examples of how Elai can transform any cartoon mascot into a talking digital avatar. To request a cartoon avatar, please submit your details below.
How to Increase
Engagement Using AI video
with digital avatars

We wanted to give users a different way of understanding the point of courses, reasons to accomplish them, and what benefits they get after. That is why we went for the solution, and it works very well.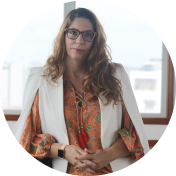 Andrea Moreno
PetroShore Compliance
About PetroShore compliance
PetroShore Compliance is a consulting and training company with offices in Spain and Angola. The firm provides consultancy for Corporate Crime Prevention, delivering full solutions for preventing and treating anti-legal or anti-social crimes within organizations.
PetroShore creates a training model that includes theory, practice, and comparative analysis with sectoral benchmarking for both public and private entities.
What makes them stand out is that they combine consulting with complete and practical learning. They have more than 3,500 successful cases of satisfied clients. Nevertheless, they wanted to make their customers even more pleased, and this is when they found Elai.io.
The challenge
We spoke with Andrea Moreno, the CEO of PetroShore and one of Elai's most active users. Looking for new methods to keep students engaged in Corporate Training courses, Andrea decided to offer them something different.

According to her, more than 70 videos are added to their courses every month, for a total of 900 videos every year. Videos allow them to summarize and provide a large amount of relevant information to viewers more efficiently.
The solution: AI videos with digital avatars
The course's presentation is the first thing customers see when they visit the landing page. PetroShore uses four Elai avatars to present the course and create the presentation of its key aspects, objectives, and advantages.

As a result, the videos made with Elai were watched more than 10,000 times on their website, which Andrea thinks is an exceptional success. In addition, the percentage of time spent actively watching a video by viewers has grown, on average by up to 60%.
How will Elai affect my
Thinkific site?
When you install the Elai App, you will be able to create your Elai account and start generating videos.
After your Elai video is rendered, you will be able to upload it directly to your Thinkific Site and use it in your courses.
Working with Elai
As Andrea Moreno's company has been using Elai's video creation platform for several months, we sat down with her to learn more about her experience.element that has come to the taste is the diverse variety of avatars and languages available. Virtual presenters, she says, are well represented on the platform, allowing video-makers to tailor their content to a wider audience.
Advice for new Elai users
Andrea assures that she would highly suggest Elai to anyone who develops
e-learning courses
. A full learning experience for students is something the Elai team believes every educator can achieve by incorporating videos into the lessons they provide.
Learning is no longer limited
to the classroom
People today require the freedom and flexibility to learn whenever, wherever, and however they want.