Make Personalized Video Newsletters Easily With Elai.io
Vitalii Romanchenko
Have you ever felt like your business is just one of many in a sea of emails? We get it, it can be hard to stand out nowadays. But what if we told you there's a way to make your emails more engaging and memorable? Enter video newsletters!
Not only do they help you build stronger connections with your customers, but they also offer a fun and unique way to showcase your brand and products.
This email marketing technique combines the power of visually stunning videos with the reach of email. Unlike plain text emails, video newsletters pack a visual punch that resonates with viewers and takes your marketing efforts to the next level.
In this article, we'll teach you how to make a video newsletter that stands out and delivers results. Keep reading for video newsletter tips and best practices, as well as how to rest assured your emails land in the right place.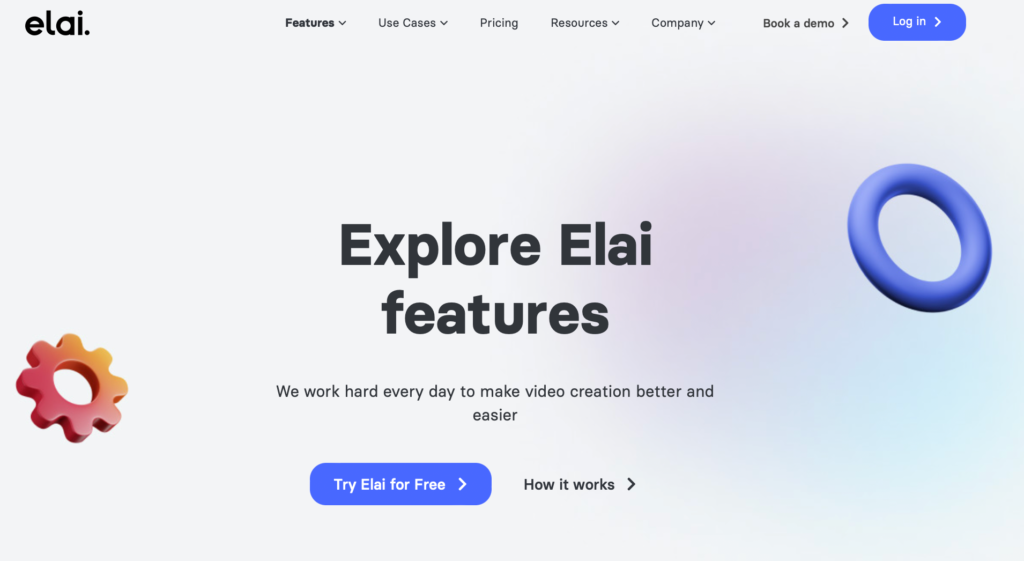 A Video Newsletter. What is it?
In essence, a video newsletter is a type of email that contains a video embedded directly into the body of the message. As opposed to plain text emails, video newsletters provide viewers with an engaging visual experience.
It's a fun and interactive way to introduce your products or services, explain why people should buy them, and build relationships with your customers.
Revamp your communication strategy and keep your subscribers hooked with personalized video newsletters! In today's fast-paced world, reaching your target audience has never been easier.
Crafting customized video newsletter not only captures your viewer's attention but keeps them eagerly anticipating each and every instalment. By incorporating visually engaging elements, valuable information, and intriguing teasers, your message will be communicated more efficiently than ever before.
Whether you need to share industry updates, corporate news, or promotions, personalized video newsletters are the most effective tool to keep your subscribers informed and engaged.
Don't miss out on this innovative and impactful communication method – start crafting yours today!
Types of Video Newsletters
Invite video newsletters are great for telling people about upcoming events or new products. They help draw people's attention and make them want to act right away. You can also use them to show new things, special deals, and to make more sales.
Explainer videos are a great way to introduce an unfamiliar concept or product. These short and informative videos explain the unique benefits of what you're offering in a simple and engaging manner.
They are helpful to get people to do something. It could be signing up for a newsletter, getting an ebook, or trying out something new.
Thank you videos show appreciation for your customers. It's a great way to thank people for buying from you, or just acknowledge their loyalty.
The Key Benefits of Video Newsletters
Capture your audience's attention and increase engagement levels with video newsletters! According to a report by Campaign Monitor, adding videos to your email marketing can skyrocket click-through rates by up to 300%.
Unlike text, videos offer a dynamic and interactive experience that keeps viewers tuned in for longer. With video newsletters, your message will connect with your audience on a whole new level.
2. Higher Click-Through Rates
Want to know a secret to increasing your click-through rates in email marketing? Well, it's all about adding videos to your newsletters! Research by GetResponse found that video newsletters can lead to a 34% higher conversion rate compared to those without videos.
This is because videos are more memorable and engaging, making a stronger connection with viewers. So, next time you're planning an email campaign, make sure to include some awesome videos!
3. Improved Message Retention
Did you know that people only remember about 10% of what they hear after three days? Yikes! But don't worry, we've got a trick up our sleeve – introducing video newsletters! When text is paired with awesome visuals, retention can skyrocket up to 65%. That's almost seven times as much!
By using video newsletters, your message can stick with your audience long after they've received your email, leading to better brand recognition and ultimately, more sales. So why not give video newsletters a try and watch your retention (and sales) soar!
4. Increased Conversion Rates
Every email marketing campaign is trying to get people to buy something or spend money. Video newsletters can help with this. They make the call-to-action, or CTA, more interesting so that people will click it. Studies have found that video CTAs lead to more people buying things than other types of CTAs.
5. Distinctiveness from Competitors
Video newsletters are the secret weapon to make your business stand out in a marketplace filled with noise! With many companies still reluctant to bring videos into their email marketing strategies, being an early adopter will give you a unique advantage over your competitors.
So why not start crafting your video newsletters today and create a truly engaging and memorable experience for your subscribers? Let's make your business shine!
How to Make a Video Newsletter?
Step 1: Choose a Template or Make One from Scratch
You have two options: use video newsletter templates or start from scratch. If you decide to go with the former, there are plenty of pre-built templates available online that make creating your newsletter quick and easy. On the other hand, if you'd rather create something truly unique, starting from scratch is the way to go.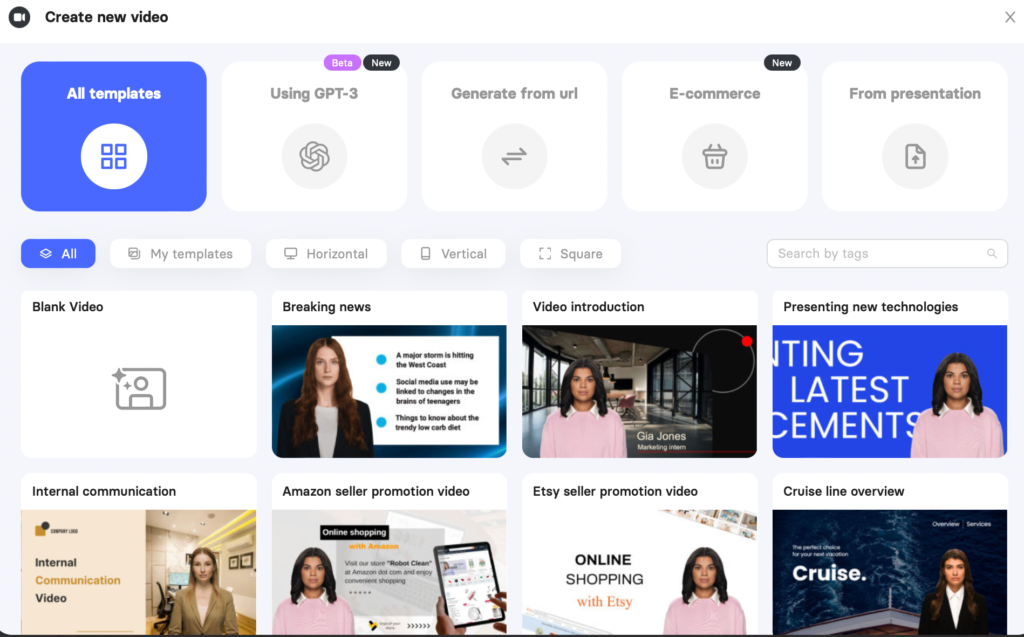 Step 2: Choose an AI Video Presenter
AI video presenters are the perfect way to add life and personality to your videos. Choose from a variety of pre-recorded spokespeople or create your own custom AI presenter with their own unique style, voice, and look.

Insert your video newsletter script into the text frame and watch as your AI presenter brings it to life. Get creative and make sure to play around with different pacing, intonations, and expressions for max engagement.
Once you are done with your video, it is time to edit. Add pictures, words on the screen, sound and other things. Change the colours and fonts to make your video look different from others.
Step 5: Generate Your Video Newsletter
Once you've finished editing your video, it's time to generate and share. With the click of a button, you'll be able to get your amazing video newsletter ready for publishing and sharing with the world!
By following these simple steps you can easily create a high-quality video newsletter that will captivate your audience and make your message stick.
Tips for Creating Effective Video Newsletters
1. Know Your Audience
A successful video newsletter starts with understanding the target audience. You need to understand what their pain points, interests, and preferences are. This knowledge will help ensure your videos are relevant and resonate with viewers.
2. Keep it Concise and Visually Appealing
An effective video newsletter should be concise and visually appealing. Keep the video length between one to three minutes, and ensure the visuals are of high quality.
3. Provide Value-Add Content
The video should be relevant, informative, and provide value to the viewers. Avoid being overly promotional or pushy, as this can turn off viewers.
4. Add a Clear Call-to-Action
An effective video newsletter must close with a clear call-to-action (CTA). The CTA should be persuasive and guide the viewer to the next steps.
How to Send a Video Through Email?
Once you have created your video newsletter email, it's time to send it out. To make sure that your subscribers can watch the video without any problems, there are a few things you should consider:
Step 1: Choose the Right Email Service Provider
Not all email service providers are created equal when it comes to sending videos. Make sure you choose one that supports video-embedding and streaming, so that your subscribers can watch the video without any problems.
Step 2: Compress Your Videos
Before sending out your email, make sure to compress the videos to reduce their size. There are plenty of free tools available online that can help you do this quickly and easily.
Step 3: Test the Email
Before sending out your email, make sure to test it on multiple devices and platforms. This way you can be sure that all of your subscribers will have a great experience when watching your video newsletter.
How Do You Insert a Video Into a Newsletter?
• Embed video content into the email using HTML5 for email clients such as Outlook, iOS Mail and Apple Mail.
• Use an image with a play button if the email client doesn't support video embedding to give a video look and feel.
• Add a video link to the image to make it interactive.
• Product Demos – Use video to show a product's features, capabilities, and benefits in action.
• Tutorials & How-To Videos – Create step-by-step guides and instructional videos that help subscribers understand how to use or benefit from your products.
• Behind the Scenes – Give subscribers an insider look at how you create products or run your business.
• Interviews & Q&As – Invite experts and influencers to answer subscribers' questions about topics related to your industry.
• Event Coverage – Showcase events you attend or host for your subscribers.
• Customer Testimonials – Leverage customer stories to show the impact of your product or service in a personal way.
• Q&A Videos – Ask subscribers to submit questions and answer them on video.
• Announcements & News – Share news, updates, and announcements to keep subscribers in the loop.
• Subscriber Appreciation – Show your appreciation for your subscribers by creating special videos just for them.
• Live Events – Stream special events live and invite subscribers to join in the fun.
• Seasonal Videos – Make videos related to holidays, seasons, or other timely topics.
• Contests & Challenges – Create fun challenges and competitions with prizes for viewers who participate.
• Staff Introductions – Introduce your team members in video and give subscribers a chance to get to know them.
• Product Unboxings – Showcase new products or updates by unboxing them on-screen.
• Tips & Advice – Share advice and tips related to your product or industry with subscribers.
Here is one of the video newsletter example from Elai.io:
Bringing personalised video newsletters into your life can be a thrilling and effective way to connect with your network: from clients to bridges, it will facilitate communication and strengthen relationships.
It's an appealing way to share updates that are sure to leave a lasting impression. Keep in mind that you don't have to be a marketing expert or have all the answers – anyone with commitment and innovation is perfectly capable of creating profession-looking videos in no time.
With Elai.io's powerful video newsletter maker, you can create high-quality videos and newsletters quickly and easily. Plus, with AI tools like automated voice-over, facial recognition, lip-syncing and more you can save time while creating engaging videos that will help boost engagement and conversions.
The tools are out there; now, it's up to you to make something truly special out of them! Try making your own video newsletter today and see where it takes you. Who knows? This could be the first step towards building a booming business with loyal customers who look forward to hearing from you each month!
So go ahead and give video newsletters a try – you won't regret it! Start creating your amazing videos today with Elai.io.