Discover How Easily Ai Create Video from Text with Elai.io
Vitalii Romanchenko
Video marketing is the hottest thing right now! It's the secret weapon to connect with your audience, convey more information faster, and increase engagement like never before. 😊
With people running around at lightning speed these days, videos help you cut through the noise and make a lasting impression. So, are you ready to hit record and make some magic happen?
If you're one of those who find video production a complicated and time-consuming process, we have excellent news to share. Have you heard of the revolutionary AI video generators? They're game-changing software that can produce videos in a snap, and we're here to tell you all about them.
Looking to level up your video creation game without breaking the bank on expensive equipment? We've got you covered. Meet Elai.io, the AI video generator that will blow your mind (and your audience's!). 😱
With its cutting-edge artificial intelligence technology, you'll be amazed at how quickly you can whip up stunning videos that look like they were made by a pro. And the best part? You don't need fancy gear or technical know-how to get started – even if you're an absolute newbie to the world of video editing.
Elai.io makes it easy, fun, and accessible for everyone to create amazing videos that will wow your followers and boost your brand. Trust us, you won't want to miss out on this game-changing tool.🚀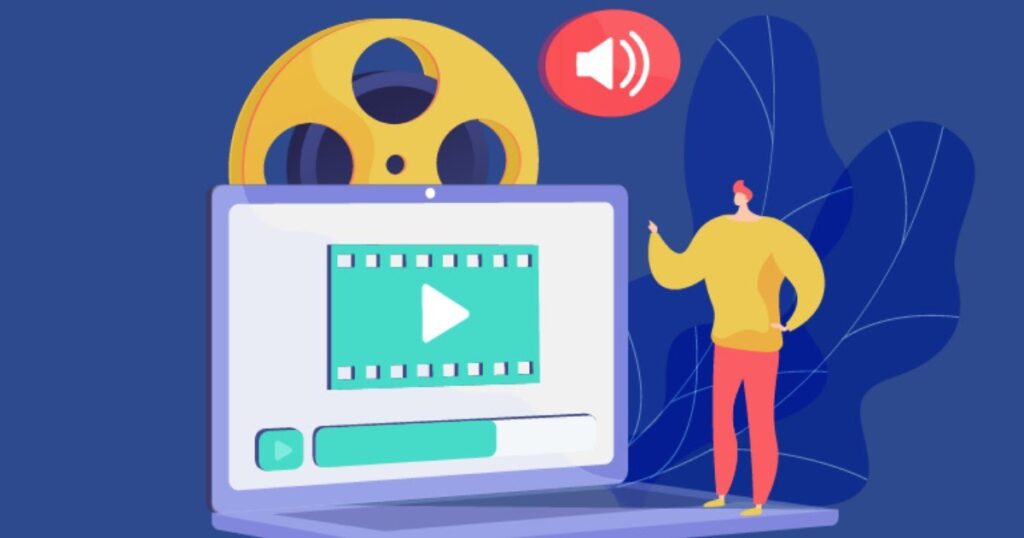 Video Generators. Learn How to Create Videos with Ai 💻
Revolutionise the way you produce videos with AI video generators! These innovative software applications, also referred to as video automation tools or video creation software, utilise advanced algorithms to streamline the video production process.
With the ability to analyse immense quantities of data, AI video generators can create a diverse array of videos, ranging from promotional reels and explainer videos to social media clips and even customised footage. 😎
With features such as storyboard creation, complex scriptwriting, voice-over recording, cutting-edge video editing options, and more, AI video generators are your ticket to crafting professional-looking videos with ease. Say goodbye to the complexity of video creation and let AI technology bring your vision to life!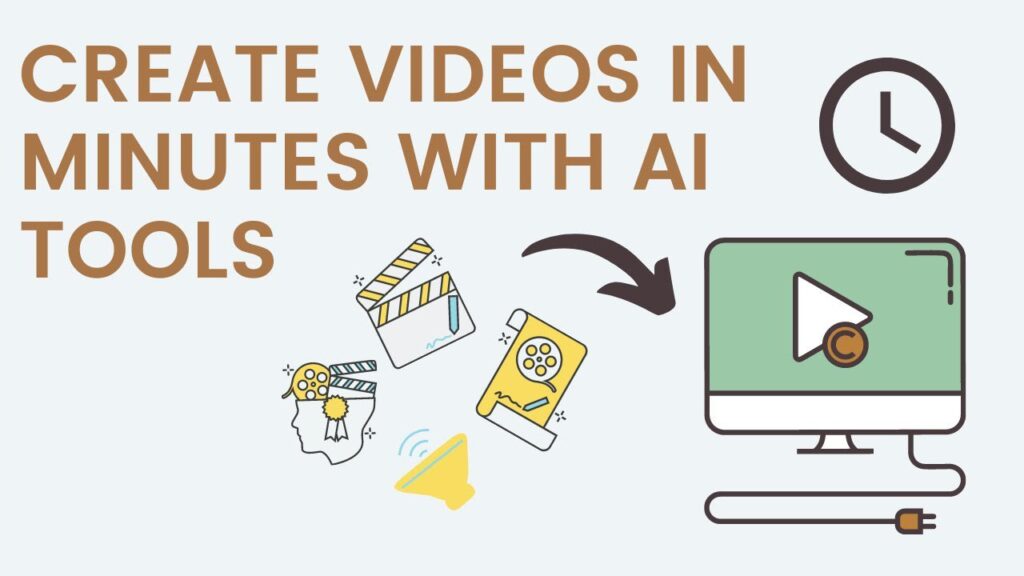 Advantages of AI Video Generators 😲
Save Time 🤗 You can utilise Ai to create videos from text quickly and easily without having to spend hours editing or learning complicated software.
Affordable 😜 You don't need pricey equipment to produce beautiful videos with AI video generators like Elai.io; all you need is your computer and an internet connection.
Professional Quality 🎬 Level up your video creation game with the help of AI video generators. These state-of-the-art tools will take your raw footage and transform it into a masterpiece that looks like it was crafted by a professional. Suddenly, your lack of video editing experience won't be an issue anymore.
Increased Engagement 👋 By utilising this technological innovation, you can pump out first-rate videos in no time at all, and have your audience glued to their screens. With cutting-edge software on your side, you'll be able to cook up fresh and exciting content in a flash!
Fun and Easy 🥳 This is really easy to create videos using ai. They have features that are easy to use and tutorials that will help you create awesome content quickly!
Flexibility 🚀 AI video generators offer you the flexibility to customise videos according to your needs. From editing transitions and backgrounds to adding captions and more, you can create a unique video for every occasion.
Automation 😇 You can easily automate the entire video production process without sacrificing quality. From creating storyboards to crafting scripts, these innovative features make it a breeze to create professional-looking videos in no time flat!
Scalability 🙀 AI video generators help businesses make lots of videos quickly. You can make videos for any special occasion and you will never run out of new ideas!
If you're looking for a simple yet effective way to create amazing videos without breaking the bank or spending hours editing, then look no further than Elai.io! Try out this revolutionary platform today and see just how easy it is to make videos that will have your audience raving.
It's the perfect solution for entrepreneurs, creatives, and anyone else who wants to save time and money while producing high-quality content.
How Do AI Video Generators Work? 🤔
Imagine having your own personal video creator at your fingertips, without any prior editing knowledge required. That's where AI video generators come in, simplifying the video creation process like never before.
With just a few clicks, the software analyses your requirements and preferences, weaving them into a customised masterpiece.
The program's top-of-the-line AI algorithms scrutinise every element, from images to text, to assemble the perfect storyboard. With natural language processing, it even creates a flawless script, ready to be narrated by an AI voice-over. In no time, you'll have a magnificent video, polished and professional, just waiting to be unleashed onto the world.
Experience the power of AI video generators and make your creative vision come to life with Elai.io! Don't wait any longer – start creating amazing videos today!
Benefits of AI Video Generators
Imagine creating a stunning video without breaking a sweat or breaking the bank. This is where AI video generators come in, providing a new innovative alternative to traditional video creation methods.
With incredible speed and precision, AI algorithms can analyse data in the blink of an eye, handing over a finished video faster than you can say action. And this is just the beginning.
The level of customization options available through AI video generators is a game-changer. The software's ability to crunch vast amounts of data means that you can use ai to create videos that are tailored to your needs or individual viewers' preferences, all with minimum effort.
Say goodbye to cookie-cutter videos and hello to tailor-made content. And let's not forget about the financial benefits, as AI algorithms automate many aspects of video production, cutting down on production costs and making high-quality videos accessible to everyone!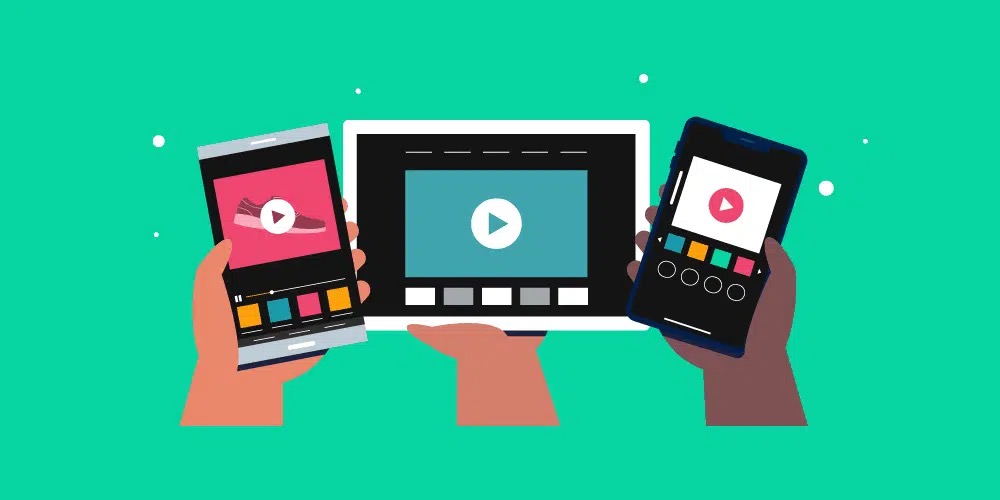 The Ultimate Guide to Making Video Using Ai ✏️
Step 1: Create a video script 📝
Video creation just got even easier! With the help of the Elai.io AI video generator, you can now create your own videos by simply typing text. Gone are the days when you need to spend hours editing and shooting footage.
However, don't be fooled into thinking it's as simple as copy-pasting a long PDF document or blog post. To really make the most out of this technology, take the time to craft a proper video script. Trust us, it's worth it for the incredible end result. So let's get typing, and let the AI do the rest!
Step 2: Select an AI avatar 🙌
With just a few clicks, you can pick an AI avatar to be the star of your video. Think of it like choosing a co-host who never gets tired. You have complete control over where and how the avatar appears. So, sit back, relax, and watch the magic happen!
You want to level up your video content and add some personality, huh? Well, lucky for you, Elai.io has got your back! Just head over to the Avatar tab on the right-hand side of the video canvas and take your pick from our awesome selection of AI avatars.
Whether you want a full-body frame or just a voice, we've got you covered. And don't worry about placement – you can easily adjust the avatar's size and position with a simple left-click. So go ahead and let your content shine with a little help from your new AI friends.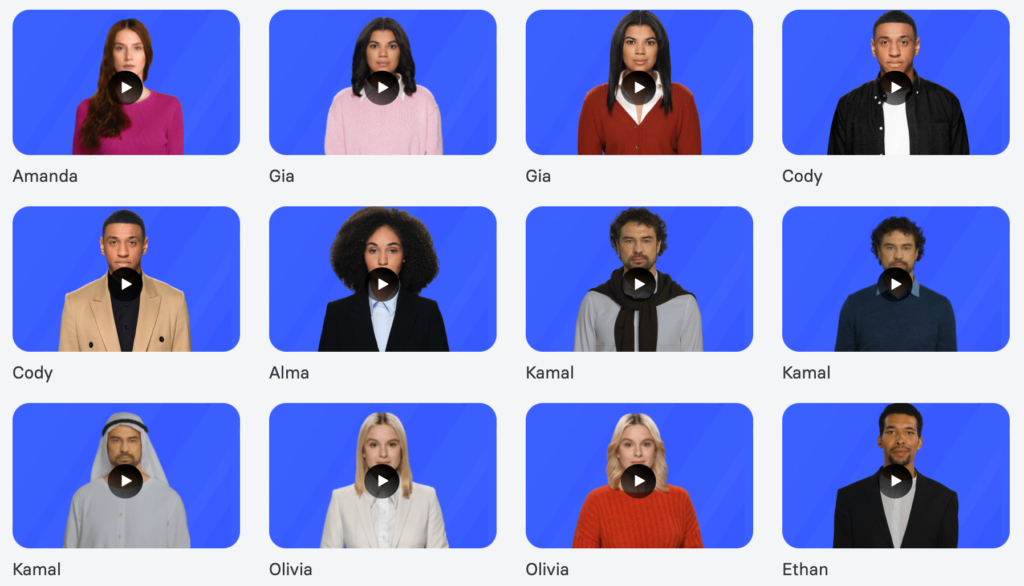 Step 3: Paste text and choose a voice 😜
Say goodbye to hours of recording and editing your own voiceover, and say hello to an effortless text-to-speech solution. Simply insert your script and watch the magic happen as your words are transformed into a lifelike voiceover in a matter of seconds.
What's more, you have complete control over the voice selection, so you can create a completely customised and professional result that truly speaks to your brand. It's never been easier or more exciting to bring your video projects to life!
Our talking robot is pretty impressive, but every once in a while it may fumble over some words.
Thankfully, you have the power to fine-tune your speaking abilities! You can adjust its pronunciation, sprinkle in some pauses for dramatic effect, and even add emphasis where needed to make sure your narration is top-notch. No more robot-induced headaches from mispronunciations – just smooth and polished speech.
Wanna take your video to the next level but don't have the fancy software for it? No worries! You don't need it! Here's a list of things that can add zing to your video without breaking the bank:
Pictures

Recordings of your screen

Groovy background music

Unique shapes to add more personality to your video

Adding some text that pops up on the screen

Fun animations and transitions to keep things interesting

GIFs, icons, and logos to give that extra personal touch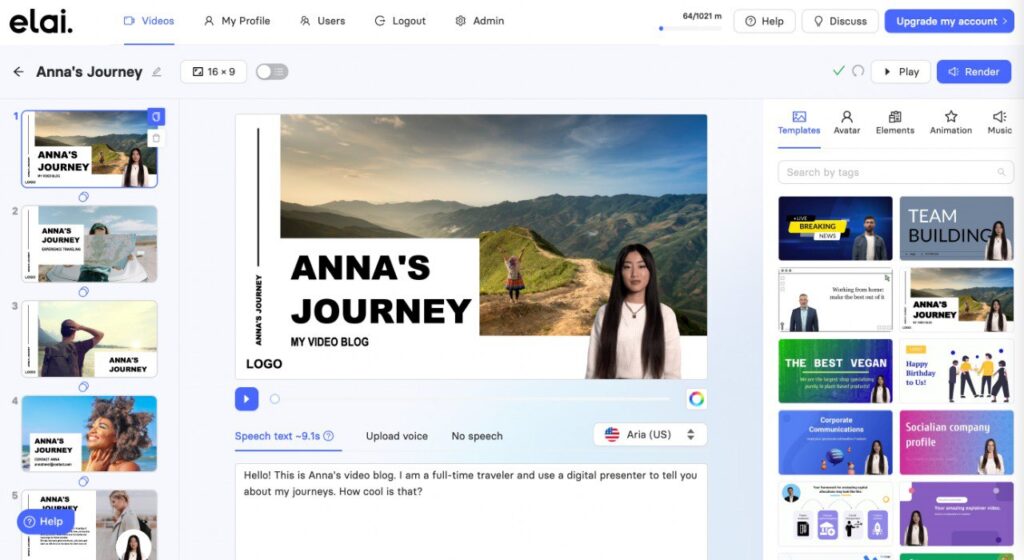 Step 5: Generate the video 🎉
Congratulations, you're now a video-making wizard! With Elai.io's help, your ideas will come to life before your very eyes. Just hit "Create video" and watch how easily our Ai create videos from text. It's like having a magical assistant that knows exactly what you want. So go ahead and give it a try, you won't be disappointed!
Your video has been put through our state-of-the-art algorithm and moderation process, meaning you now have a treasure trove of possibilities right at your fingertips! You can watch it to your heart's content, and spread the love with all your friends or colleagues.
As we have seen, there is immense potential when you use ai to create video from text. Whether you want to enhance your own video editing skills, use AI as a creative tool, or do something entirely new and unexpected with it, the possibilities are nearly endless.
It's also important to keep in mind that AI is advancing at an incredible rate, so this technology will become even more accessible and powerful over time. If you're interested in taking the plunge into creating videos with AI, remember to start small and think big.
Experiment with the software available and work on making compelling stories with minimal effort and expense. With dedication and passion for the craft of video-making, you can create a video using ai that would be the art beyond traditional filmmaking! So don't wait – get started on your next video project together with Elai.io right today!
Yes, AI and machine learning can be used to make videos. Elai.io is a tool that helps people make good-looking videos without needing to know complicated software or having a lot of money.
You just type in what you want the video to say, pick a voice, and then you can have your own high-quality video.
Making a video with AI is not hard. Upload your words to a website like Elai.io. Pick the template, voice, and appearance you want and change the visuals if you'd like.
Then press "Create Video" and watch as AI makes your words into a cool video that can be shared with others!