How to Turn Text Into Video App with AI Voice – Elai.io
Vitalii Romanchenko
In our world of constant technological advancements, there is no denying the power of video. It has become a driving force in how we connect and communicate online. From advertisements to educational content, videos have transformed the way we receive and process information.
Complex theories and ideas can be simplified and presented in an engaging and visually stunning format. It's no wonder videos have become a go-to tool for many to effectively communicate their message with the world.
Attention-grabbing videos are a powerful tool for leaving a lasting impact on your audience. But let's face it: crafting visually stunning and dynamic videos is no small feat. It takes skill and creativity to captivate viewers from beginning to end.
Revamp your video-making game with Elai.io's Text-to-Video Converter!
Say goodbye to the headaches of time-consuming and wallet-draining video production. This tool promises to make your video content creation smooth sailing and accessible to everyone. Get ready to transform your plain ol' texts into engaging, eye-catching videos in just a few clicks.
Experience the power of transforming written words into captivating video content with this amazing tool, unleashing your creativity like never before! Within minutes, you'll have a striking visual message that resonates with your audience and conveys your ideas intuitively. Get ready to captivate your viewers and enhance your communication skills in a vivid and exciting way!
If you're in the business of creating engaging and impactful videos, Elai.io is the secret weapon you need to elevate your game. Whether you're crafting content to build your brand, teach a new concept, or convey a complex message, Elai.io's suite of powerful tools and technology will help you produce top-notch video content with ease. Don't settle for bland or amateurish clips – turn to Elai.io and make your videos stand out from the rest!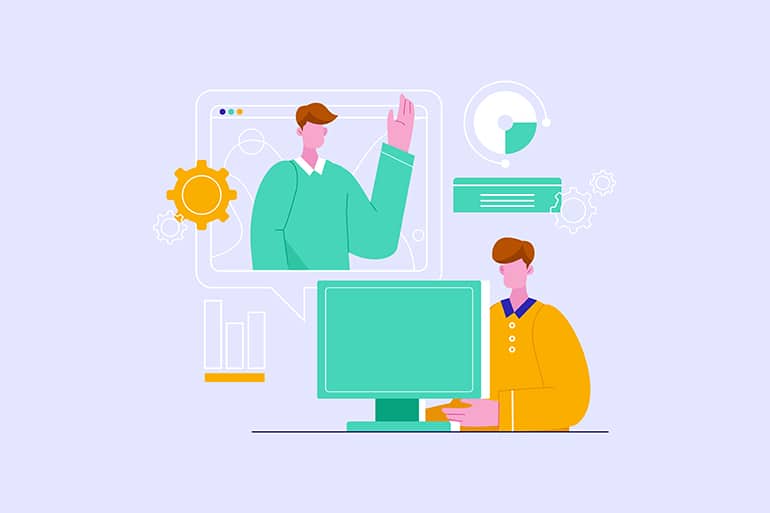 Discover How to Turn Text Into Video. Benefits of Video Marketing
Harnessing the power of video marketing has become all the rage, exploding onto the scene in recent years. Savvy businesses and individuals alike have come to realise just how powerful it can be, captivating audiences like never before.
With their unparalleled ability to captivate and enthral, videos have become a force to be reckoned with, easily outperforming other forms of content, especially when it comes to likes and shares on social media platforms.
Videos have a higher engagement rate than any other form of content in terms of likes, shares, and comments. By using Elai.io's Text-to-Video Converter, you can create visually appealing videos that will grab your audience's attention, hold their interest and help convey your message more effectively.
Elai.io is a true game-changer for anyone looking to create captivating visual content. Its interface is specifically tailored to be user-friendly and intuitive, meaning that even those who are new to video production will be able to easily create stunning videos. With just a few clicks, you can turn text into video with ai voice that will keep your audience glued to the screen.
Say goodbye to the days of struggling with complex video editing software – Elai.io has made it easy for everyone to create visually dynamic videos. Don't let a lack of design skills hold you back from creating amazing content – let Elai.io do the heavy lifting for you.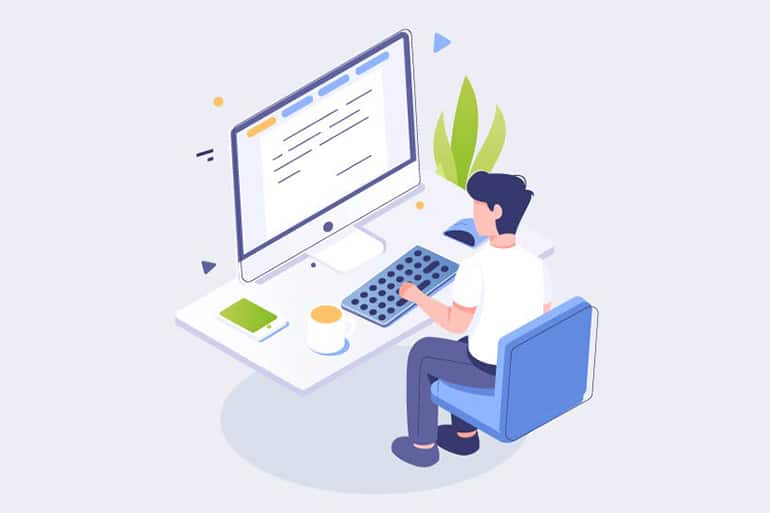 How Elai.io Can Benefit Your Business? 😜
Imagine being able to captivate your audience with compelling visual content without the complexities of video editing – this is now possible. Through the innovative tool Elai.io you can transform your written content into a dynamic video that engages and educates your viewers.
From pitches to presentations, and even personal projects, introducing the power of video into your content strategy has never been simpler with Elai.io. By utilising this technology, you can experience a quicker and easier way to share your message in a format that is easily consumable by audiences of all backgrounds.
The power of visual media is truly remarkable, especially in the realm of social sharing. Whether it be on Facebook or some other platform, videos tend to have a special allure that can instantly captivate an audience.
From there, it's all uphill! Increased engagement, more likes and shares, and ultimately, a chance for your content to be seen by a much larger audience than you ever expected.
It's like throwing a huge rock into a still pond and watching the ripples spread far and wide. So if you're looking to boost your website or business, consider incorporating more video content into your marketing strategy. You never know where it might lead!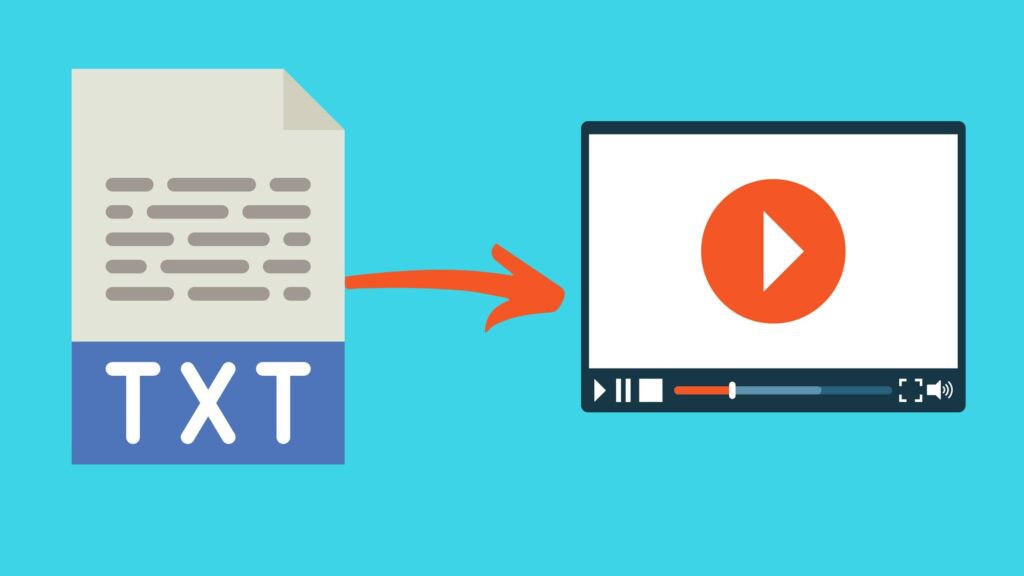 Effective communication
Elai.io's Text-to-Video Converter provides a powerful solution for businesses seeking to convey their message in a dynamic and engaging way. By leveraging captivating visual aids, you can communicate your ideas more effectively than ever before, capturing your audience's attention and leaving a lasting impression.
Whether you're promoting a product, explaining a complex concept, or simply telling a compelling story, Elai.io's Text-to-Video Converter makes it easy to generate visually stunning content that truly resonates with your target audience.  
So why settle for bland or ineffective messaging when you can transform your ideas into a multimedia masterpiece with Elai.io's innovative solution?
How to Turn Text Into Video?
Step 1: Select a template that matches your needs the most 💻
Unleash your inner director with our extensive collection of video templates, specially designed to speed up the video creation process. Not only are these templates beautifully designed, but they're also highly customizable, ensuring you create the perfect video for your needs. Also, Elai.io gives you the option to create your own template from scratch.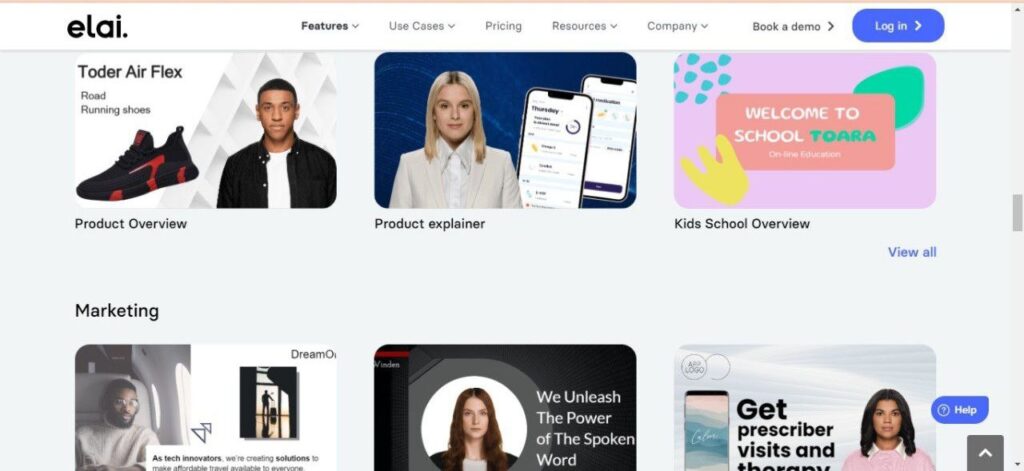 Step 2: Choose your AI avatar 😱
Open up a new level of video production with over 25 AI avatars at your fingertips! Choose the perfect presenter to bring your content to life. Showcase your brand and message in a unique and engaging way with these realistic and diverse options. With this innovative technology, the possibilities for your next video project are endless.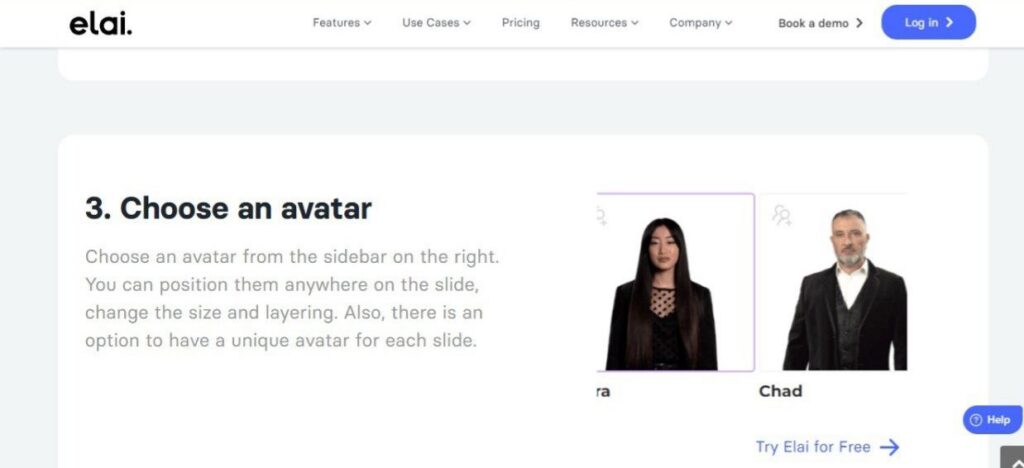 Step 3: It's time to turn text into video 😎
Turn text into video app Elai.io! Check out our cutting-edge text-to-speech program that brings your text to life in over 65 languages. Simply copy and paste your text into our intuitive interface, sit back and enjoy watching your words turn into crystal-clear speech.
If you're creating presentations, or just want to hear your text out loud, Elai.io is the perfect tool for you. Try it now and make your words sound louder!
Step 4: Edit and customise your video 🎉
Our Video Editor is packed to the brim with creative tools that make your videos radiate brilliance. Elevate your content with smooth transitions that'll stun viewers, or add text overlays that perfectly convey your core message. You can even add animations to your videos for added appeal!
You'll control the process every step of the way and change text font, video styles and colours with a swipe of your hand. With our video maker, you can really stand out from the crowd!
Step 5: Generate a video with Ai
Easily add accessibility titles to your video content and watch your creativity soar! In just a few clicks, your text is turned into an AI video masterpiece in minutes. Share it with the world, broadcast it and embed it anywhere – the possibilities are endless! So why wait? Start creating great video content today!
Key Features of Elai.io's Text-to-Video Converter ✏️
Fast processing times: Elai.io can create videos quickly, helping you save time and resources.

Easy-to-use interface: The tool has an intuitive and user-friendly interface that is easy to navigate, even for those who are new to creating videos.
Friendly tone: Elai.io has a friendly tone that guides you through the video-making process, making it simple and easy to understand.

AI avatar: Choose from over 25 AI avatars to bring your content to life and convey your message in a unique and engaging way.

Text-to-speech: Our advanced text-to-speech program can turn your words into crystal-clear speech in over 65 languages.

Video Editor: Add animations, transitions and text overlays to your videos. It is packed with creative tools that make it easy to customise your video content.

Shareability: You can easily share the link to social media or embed your videos in the frame of email- the possibilities are endless!
All in all, converting text into video is an engaging and cost-effective way to express yourself or your business. Whether you are looking to reach consumers through new methods, increase employee engagement, or scale your business faster than ever before, there are endless ways that turning text into video can boost your success. Take advantage of technology today and discover the incredible opportunities available with this simple yet significant change.
Don't be intimidated by what you don't know – take a chance and see what happens! With the proper resources and guidance, you may be surprised at how quickly you can transform your message from words on a page to visuals that captivate viewers around the globe.
Elai.io is a powerful tool for businesses looking to create professional-looking videos quickly and easily. With its fast processing times, easy-to-use interface, and ability to create compelling visuals, Elai.io is an essential tool for anyone looking to create high-quality video content.
Whether you're a marketer, educator, or just someone looking to make fun and engaging videos this is the perfect solution. So don't be afraid to go out there and make text into video – who knows what success awaits you!
Gone are the days when videos were only created by professionals with advanced video editing skills. Today, with the abundance of digital tools available, anyone can transform their written content into attention-grabbing videos. If you're among the millions of people who prefer watching a video instead of reading a lengthy text, then video conversion is the way to go.
Fortunately, you don't necessarily need to invest time and energy in mastering complex video editing software. There is a great tool called Elai.io that can help you convert your texts into videos easily and quickly.
Whatever your needs and preferences are, this video converter tool out there can turn your written content into dynamic visuals that are sure to captivate your audience.
In today's digital world, video is the king of content. Whether you're creating a marketing or educational video, your text needs to be transformed into visual and audible representations to deliver your message effectively. Converting text to video with voice-over has become easier thanks to technology. With Elai.io's text-to-speech technology, your text can be transformed into speech through virtual assistants. You can then add this audio to video footage or animations using video editing software.
Creating videos has become an essential tool for many people, businesses, and organisations. But not everyone has the time or knowledge to create engaging videos. That's where text-to-video tools come in handy.
Elai.io is a software that will help you easily turn your text into a video that's visually stunning and engaging. Not only is this accessible for individuals who don't have video editing experience, but it's a cost-effective solution your budget will thank you for.
So, yes, you can convert text to video with ease and without sacrificing the quality of the final product. Whether it's a product demo, explainer video, or educational content, there's a text-to-video tool out there for you.