Learn How to Create Video Lectures in Minutes with Elai.io
Vitalii Romanchenko
The world has gone digital so it is not surprising that the way we learn has also changed. Video lectures have become a popular medium of learning and for good reasons. Unlike traditional classroom lectures, video lectures offer you flexibility, convenience, and access to a wealth of information.
This means you can learn at your own pace, pause, rewind and resume whenever you want, and access a wide range of content.
The benefits of video lectures can be especially valuable in today's fast-paced learning environment where time is a precious commodity. So, if you want to improve your learning experience and stay ahead, pay extra attention to video lectures. They just might be the key to unlocking your true potential.
In today's modern world of education, video lectures have become an essential tool for teaching and learning. However, creating high-quality video content can be tough, time-consuming, and expensive.
That's where Elai.io comes in. With our platform, you can easily create and edit your best video with just a few clicks. We offer preset backgrounds and realistic avatars based, making the entire process fast and easy!
Don't waste any more time struggling to create engaging video content. Visit Elai.io's official website today to learn more.
The Specificity of Online Video Lectures Generation

😱
With the rise of technology, online video lectures have become a popular and innovative way of learning. These virtual classrooms provide students with access to educational material from anywhere in the world, at any time of the day. 🥳
Watching videos can engage visual learners and help them better retain information, as they can pause, rewind and re-watch sections that may have been missed.
Online lectures can also free up classroom time for interactive activities and discussions, making for a more engaging and collaborative learning experience.🤗
With the convenience and flexibility that online video lecture provides, it is unsurprising that it has become a preferred method for many students seeking to expand their knowledge and skills.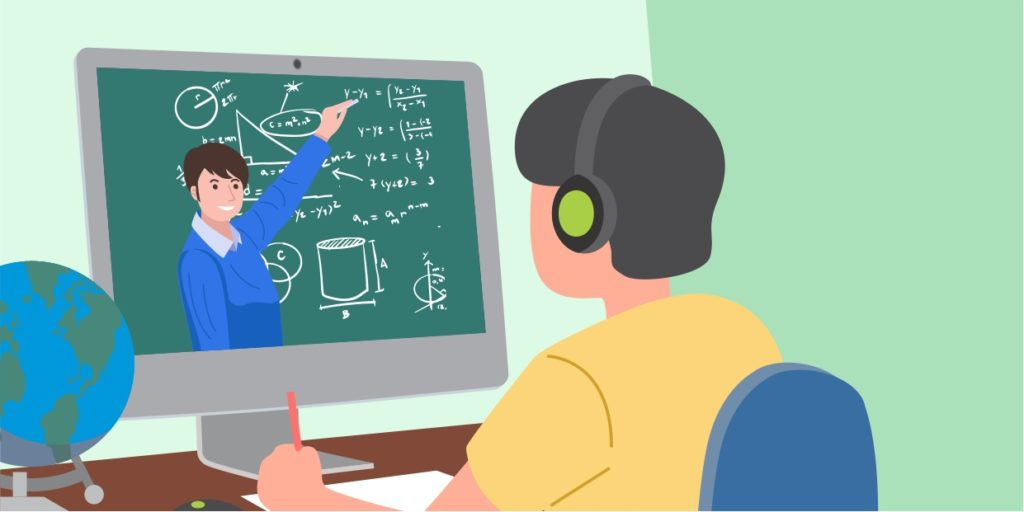 A well-crafted video lecture script has the power to captivate its audience and keep them engaged throughout the presentation. A great script is not just informative, but also creative in the way it presents its material. The tone should be clear and concise, yet personable enough to make the listener feel like they're having a conversation with the speaker. 🎉
Effective video lecture scripts should have a logical flow, with clear transitions between topics. A good script writer understands the importance of using visual aids in conjunction with the lecture, so as to reinforce key points, making them more memorable.
Ultimately, a successful video lecture script is one that informs, entertains, and inspires its audience to take action. 🚀
How to Make Video Lectures? The Ultimate Guide🚀
Lecture recordings have revolutionised the way we learn and consume information. With the ability to record lectures and then replay them, we have the luxury of revisiting critical points and fully digesting lectures at our own pace. Gone are the days of frantically scribbling notes and struggling to keep up with fast-talking professors. 
Lecture recordings allow us to soak up every last drop of knowledge without the pressure of time constraints or distractions. Plus, with the advancement of technology, we can now access our recordings from wherever we are, even on the go. 😜
As students, we have the ultimate advantage of the availability of video lecture recording. So, why not take advantage of this valuable tool and enhance our learning experience? 👋
Step 1: Write Your Best Video Lecture Script👋
When crafting your scripts, keep in mind the comprehension level of your students and the visual aids you intend to incorporate, such as images or PowerPoint presentations. Once these factors are accounted for, the writing process will be a breeze.
Step 2: Select a Template You Like or Make Your Own From Scratch😊
It's time to get started on bringing your vision to life with Elai.io. Once you sign in to your account, you'll be greeted with two options to begin creating your video lecture: use a pre-existing template or start from scratch.
If you opt for a template, don't worry – you're not limited to what's already there. Choose as many as you need to make your video truly shine.
Step 3: Choose an AI Avatar 😋
Pick an AI avatar to be your presenter by clicking on the Avatar icon. With a variety of avatars and framings available, you're sure to find the perfect fit. Let's get creative and start creating!
Make your videos more dynamic by either sticking to one framing or switching things up. But that's not all. You can also decide whether to show your avatars in front and center, as a small circle, or not at all. Tune in to your audio while getting a prime view of other elements of your tutorial with this awesome feature. Start making your videos more engaging today!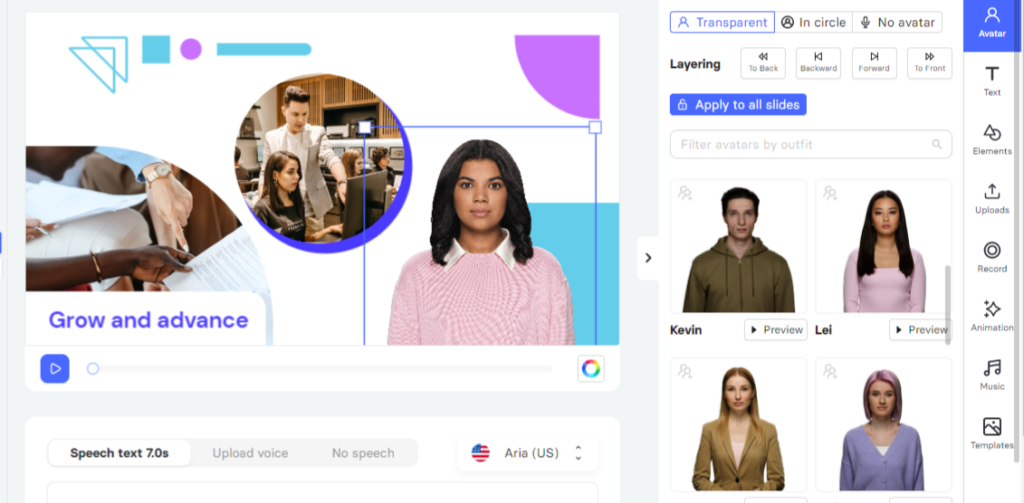 Step 4: Paste Your Script In the Text Frame 🙀
Ready to bring your script to life? It's simple! Just copy and paste your script into the designated box for each of your scenes and slides. As soon as you paste your script, Elai.io automatically assigns a voice based on the detected language.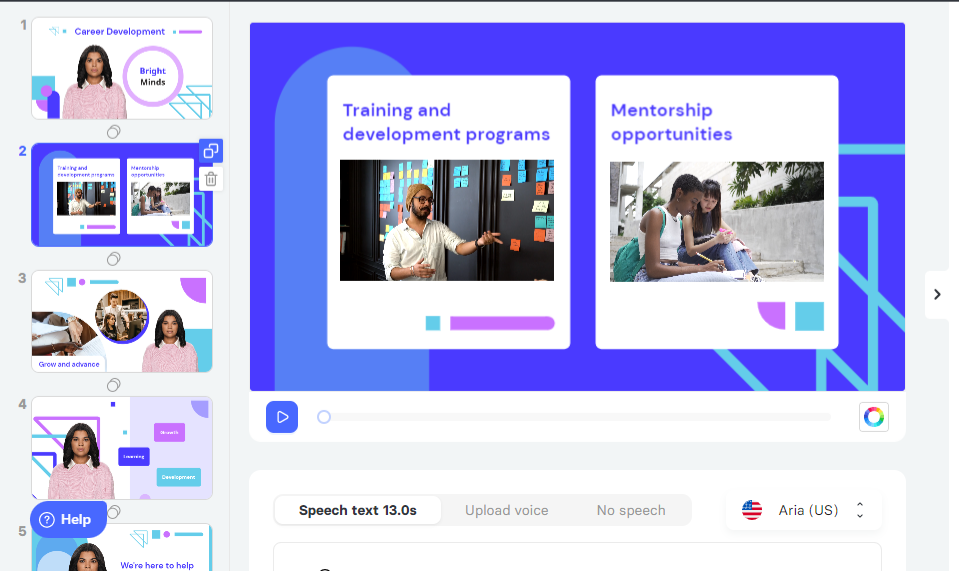 Step 5: Edit Your Video 💻
Fine-tune your video with endless possibilities! Add text, animation, shapes, images, icons, video recordings, and music to create a unique masterpiece. You can also upload your own images and add them to your video.
Easily capture screen recordings with the click of the "Record" button. Our online screen recorder allows you to record a tab, window, or entire screen. After recording, trim, cut, or loop the screen recording to sync with your script and make your video come to life.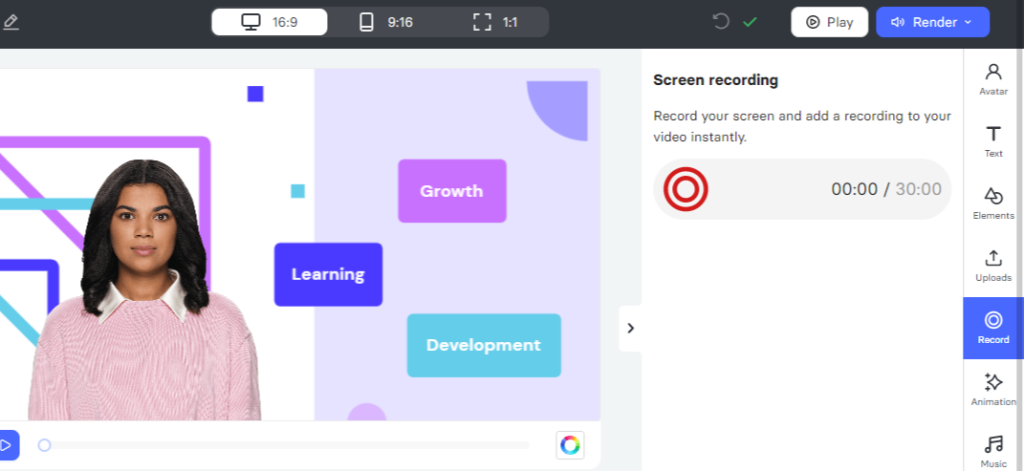 Step 6: Generate and Publish Your Video 😱
It's finally here – your finished video lecture! Before you hit the publish button, take a moment to preview it by clicking 'Play' in the top-right corner. If it meets your expectations and leaves you feeling confident and inspired, it's time to generate it.
Depending on the length of your masterpiece, the generation process may take a few minutes. But trust us, it's worth the wait!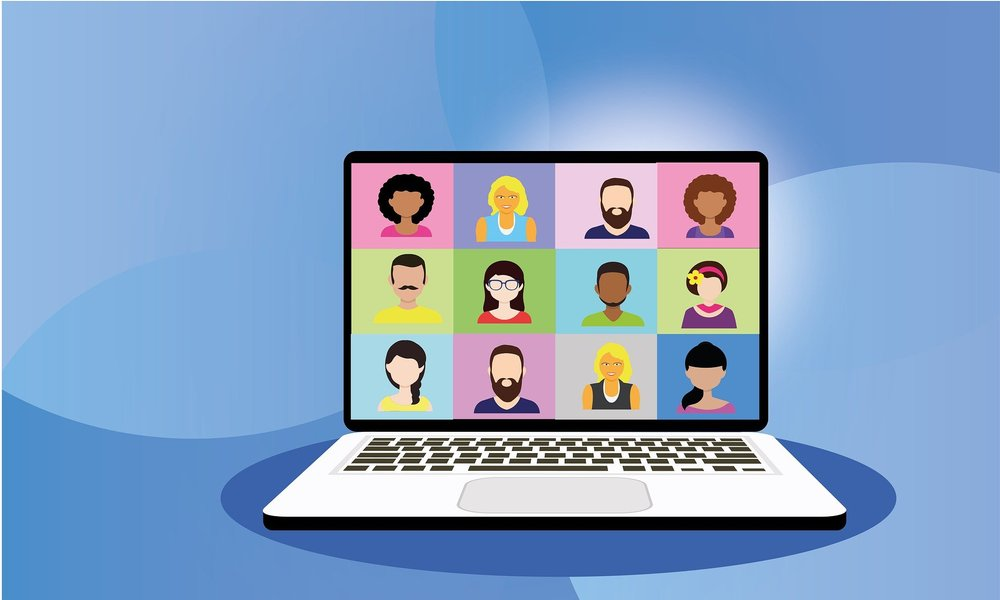 Why Elai.io is the Best Option for Video Lecture Generation?😲
Tired of spending endless hours creating and editing video lectures for your online courses? Elai.io – the revolutionary platform that simplifies the process of generating video lectures.
Elai.io combines powerful AI technology with an easy-to-use interface, allowing you to create engaging videos in a fraction of the time it would take with traditional methods.
Not only that, but Elai.io offers a variety of customization options, ensuring that your content is both informative and engaging for your students.
At Elai.io, we strive to make video lectures creation easier than ever before. Let us take your online courses to the next level – with just a few clicks you'll be able to generate stunning video lectures that will help your students learn faster and better!
The Benefits of Using Elai.io: 🎉
• Save time and effort with an easy-to-use platform
• Generate engaging videos quickly and efficiently
• Increase visibility of your online course with video lectures
• Customise visuals and audio for maximum impact on your students
With its user-friendly interface, you can save time and effort compared to other tools. Say goodbye to outdated, unengaging lectures – Elai.io's AI technology creates interactive, high-quality content that students will love.
Preview your video before generating it with just one click. If it looks good, go ahead and generate it. Give it a few minutes to finish, and you'll have an exceptional video lecture ready to go. Upgrade your teaching game with Elai.io.
You can quickly create content that caters to students at different levels. By cutting down on the stress and time required to create video lectures, elai.io frees you up to focus on what really matters – delivering quality education to your students.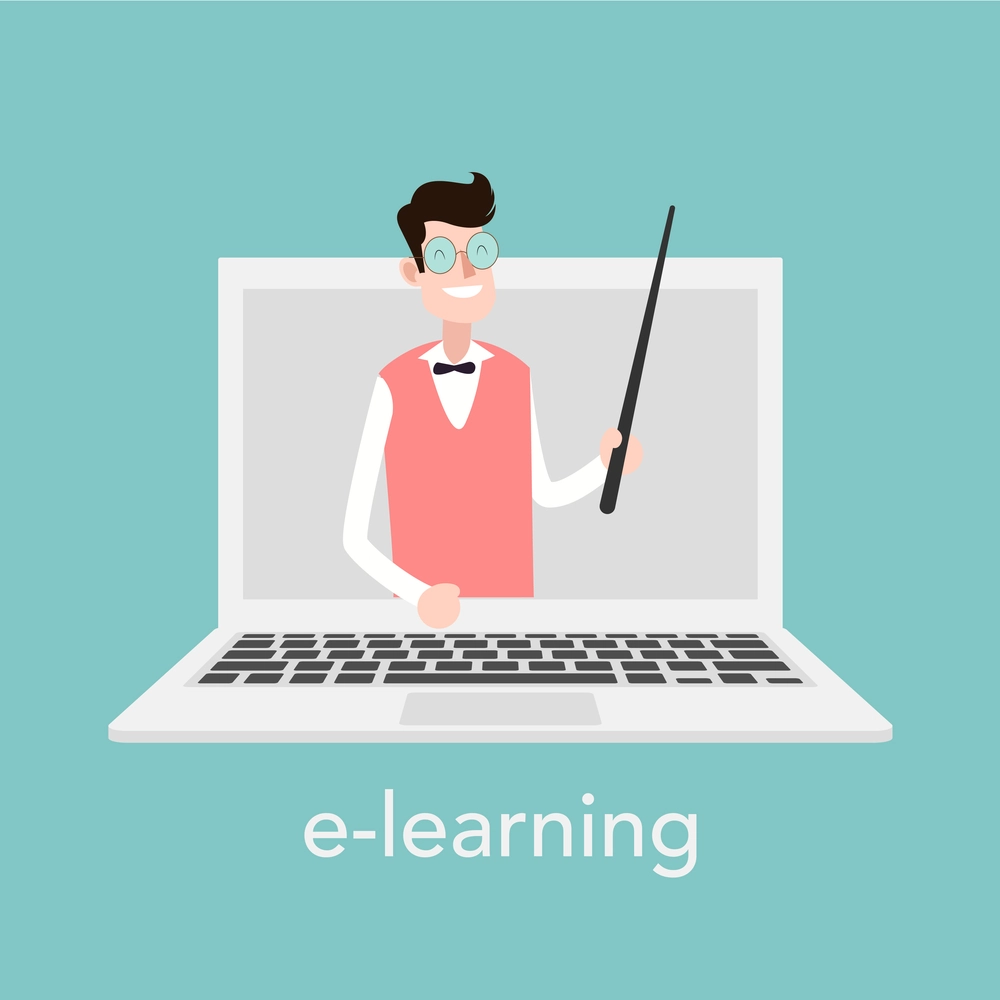 Why Should You Pay Extra Attention to Video Lectures? 😇
Recording lectures is a modern way of increasing productivity, especially with the growth in remote learning. With the vast array of technological devices available today, you can capture the entire lecture with just a few clicks. In doing so, one can free their mind from note-taking and focus on absorbing the content.
The recording also permits you to revisit the lecture at your convenience, allowing you to reinforce your understanding of the subject matter. Innovative institutions have adopted the concept of lecture recording to make education more accessible to all students.
With the possibility of capturing lectures from anywhere with an internet connection, this is an incredible opportunity for students from different backgrounds and locations to have access to world-class opportunities. 🤔
The power of video lectures cannot be underestimated in today's fast-paced world. From education to corporate training, video lectures have become an indispensable tool for delivering engaging content to a large audience.
The creativity and innovation of video lectures have made learning accessible and convenient for both students and professionals. With the ability to add visual aids, animations, and interactive quizzes, video lectures have revolutionised the way we acquire knowledge. 🚀
Whether you're studying a challenging subject or attending a corporate training session, video lectures provide an effective way to enhance your learning experience. So next time you're in need of information, why not opt for an engaging video lecture to help you learn?
When it is time to create class lectures, it's important to keep your audience engaged and interested. One of the best ways to do this is by incorporating different elements that stimulate both the mind and senses. For example, visual aids such as images, videos and infographics can help illustrate complex concepts and make them easier to understand. 🎉
Meanwhile, including interactive elements such as polls or quizzes can make the learning experience more participatory for students. Additionally, incorporating storytelling or real-life examples that relate to the topic can help students see the relevance of what they're learning. By mixing up your presentation and incorporating various elements, you'll be able to create a truly engaging class lecture experience.😜
Recording lectures has become an increasingly popular solution for students who want to revisit class content at their own pace. Whether you're an auditory learner, struggling to keep up with class notes, or simply want to review concepts covered in a lecture, recording technology allows for a convenient and effective approach to studying.
The best part? You can listen back to the material as many times as you need at a speed that works for you, without worrying about missing key information. With the help of technology, students can now take control of their learning experience and ensure academic success. So why not hit that record button and start taking control of your education?
With a user-friendly interface and cutting-edge AI technology, Elai.io offers a seamless solution for creating visually and audibly stimulating video lectures. Say goodbye to the headaches of video editing and hello to hassle-free content creation with Elai.io.
Don't just take our word for it – give Elai.io a try and watch how it transforms your teaching experience. It's a must-have tool for any educator or content creator.