Compliance Training Videos: Tips to Keep Your Business Safe
Vitalii Romanchenko
Hey there! Are your employees struggling to get compliant with the latest business regulations? Fear not, because we've got some valuable tips for you in this blog post! Compliance training videos can make a world of difference in getting your team up-to-date on industry standards.
Don't fall for the trap of using generic stock footage in your videos. Sure, it may save you some money, but it can also lead to employees drifting off into oblivion.
If you really want to create a training video that grabs your employees' attention, you need to incorporate a few tricks up your sleeve. Make sure it's engaging, informative, and most importantly, relevant to them. Trust us, they'll thank you for it.
But how do you ensure that all your team members are up-to-date on their compliance training? That's where eLearning videos come into play!
In fact, staying ahead of the game is more critical than ever in today's rapidly evolving business world. Let's dive in and help your employees meet the challenges of compliance head-on!
In this post, we'll cover everything from best practices for creating engaging content to sharing valuable takeaways from your videos. Read on for smart strategies that will help you equip your workforce with the skills they need to stay compliant in an efficient and effective manner.
Why Should You Create a Compliance Training Video?
Are you tired of boring lectures and lengthy documents that make it hard to keep information in your head? Fear not! eLearning is here to save the day! With its engaging visual format, research shows that people retain up to a whopping 90% of the content presented. Say goodbye to tedious seminars and hello to effective, enjoyable online learning!
It would be nice to have a superhero like "Corporate compliance training video" that makes sure everyone in your company knows the same things. They should know no matter where they work or what they are doing. A single source of knowledge that ensures everyone is on the same page and fully grasping compliance regulations.
Compliance Videos are Visually Engaging
Have you ever struggled to teach or learn complex information? Visuals may be the key to unlocking comprehension! Compliance videos can use captivating imagery like animations, diagrams, and demonstrations to bring content to life.
This not only keeps viewers engaged, but also makes it easier to understand difficult concepts. Let the power of visuals help you teach and learn with ease!
Videos are Trackable and Scalable
Keeping track of your employees' compliance course online doesn't have to be a headache. With the right tools, you can easily ensure that everyone in your organisation is up-to-date on their compliance knowledge.
You'll have complete visibility into how well your team has absorbed the training, and can quickly adapt to any changes in regulations or protocols. No more guesswork – just the peace of mind that comes with knowing your team is prepared for anything.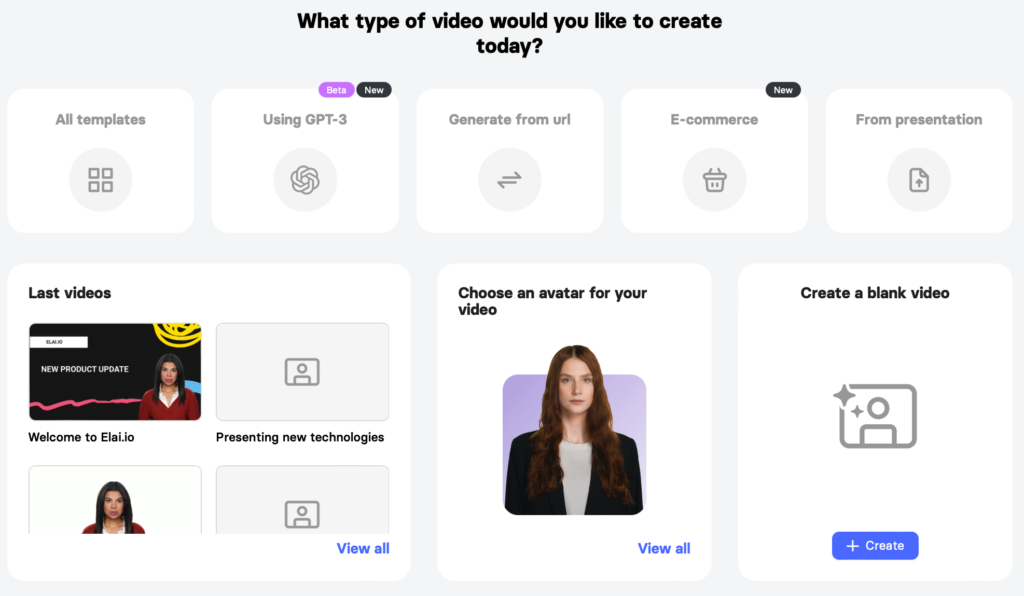 Videos are Cost-Efficient
Imagine a world where compliance training is a breeze! By investing in compliance training videos, you can save valuable time, money, and resources. Say goodbye to traditional training methods that drain your company's resources and hello to instant training at your fingertips.
With the ability to personalise your training to your organisation's specific compliance needs, you can be confident that your employees are receiving the training they need to succeed.
No more worrying about when everyone can meet or spending money to go somewhere else. Now your team can get training whenever and wherever they are. Plus, you'll have peace of mind knowing your organisation is fully compliant without all the hassle.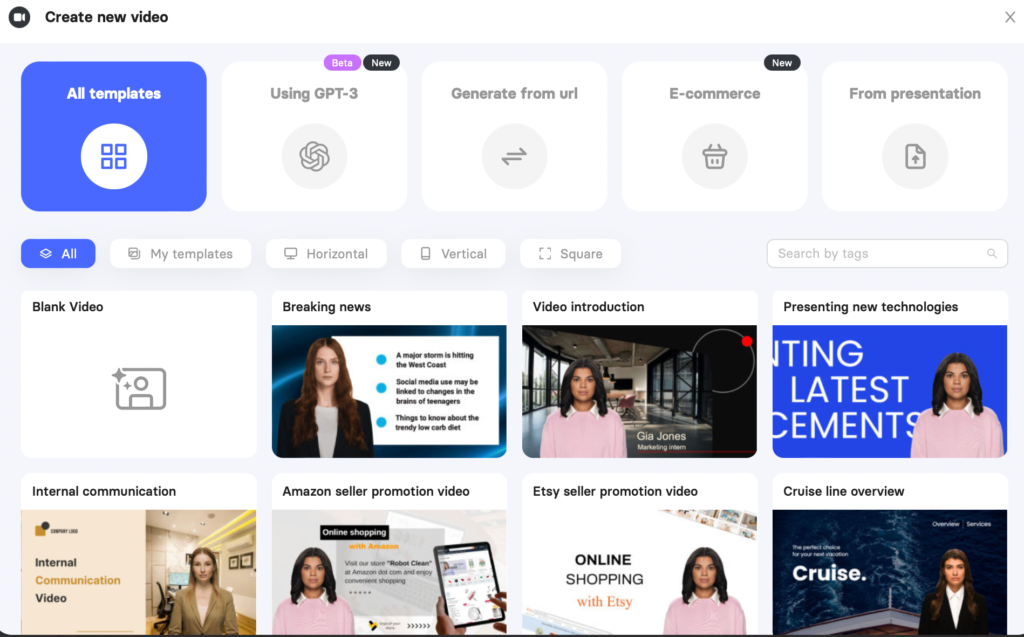 Videos are Interesting and Fun to Watch
Let's face it, compliance training can sometimes feel like a snooze-fest. But what if we told you there's a better way? Welcome to the corporate compliance video!
This video is full of fun and interesting things that will keep your employees paying attention. They will learn important information they need to do their jobs while having fun. Nobody will be falling asleep during this training!
Now that you understand why compliance videos are such an effective solution, let's take a look at some tips to help you create engaging compliance training videos that will keep your employees informed and up-to-date.
Tips for Creating Compliance Videos
1. Use Real-Life Scenarios
Let's be real, compliance training videos can be snooze-fests. But wait, there's hope! What if we spiced things up with real-life scenarios that speak directly to the employees? To make sure everyone follows the rules, we can explain the details to each person in a way that makes sense for their job.
These scenarios aren't just entertaining, they're educational too! We're talking about consequences of actions, understanding the policies that apply to their own work environment, all the good stuff. And the cherry on top? Employees actually remember and retain what they learn. Who knew compliance training could actually be engaging?
2. Incorporate Interactive Elements
Get ready to inject some fun and engagement into compliance training! You don't have to rely on dull videos any more – add some interactive elements to get your employees invested and interested.
We're talking about compliance training examples where there is a place for quizzes, simulations, and other activities that help test knowledge and make remembering important info a breeze.

Not only will your team be more engaged, but you'll also have a better understanding of how well they understand the material so you can address any knowledge gaps more effectively.
3. Embrace Storytelling and Humor
Don't snooze through your compliance training online! Companies are getting creative by incorporating storytelling and humor to liven up those mandatory videos. 
By capturing employees' attention and emotions, compliance training can actually be enjoyable. Plus, adding a touch of humor can help make the information stick.
So, if you want to remember those important rules and regulations, get ready for a compliance video that will actually make you laugh (in a good way).
4. Utilize Video On-Demand Platforms
If you're tired of boring compliance training sessions, here's some good news: video on-demand platforms can make things a lot more interesting. Not only are they more accessible for remote workers and those in different time zones, but they also give employees the flexibility to watch at their own convenience.
You can rest assured that everyone in your organisation is up-to-date on the latest regulations, so you can focus on staying compliant and avoiding any legal headaches. Plus, with a more engaging approach to training, you're more likely to see long-term success in promoting compliance across your company.
Keep it concise: Compliance videos should be to the point – no one wants to sit through an hour of compliance jargon! Break down your compliance content into smaller pieces and create short compliance videos that are easy to digest.
Personalise content: It's important to tailor compliance videos to fit the needs of each organisation. This helps ensure that everyone in your organisation is receiving the same information and understanding the importance of compliance regulations – no matter where they might be located or what time of day it is.
Utilize analytics: This can help you know if the training programs are working. Analytics tools let companies see which videos are watched, and for how long. This helps them know what works and what doesn't work.
By following these tips and creating compliance videos that are both effective and engaging, you can ensure that your employees stay informed of compliance regulations and that your organisation remains compliant with the necessary laws.
The Ultimate Guide to Whipping up a Compliance Training Video in no Time Using AI
Step 1: Turn Your Training Material Into a Script for a Video
Before you start creating the video, it's important to have a clear script that covers all the necessary compliance topics.
Outline your training goals and ideas, then turn it into a script that fits with the tone and style of your brand. Once you have a solid script, it's time to move on to step two.
Step 2: Choose a Video Template to Use as a Starting Point
Using an AI-powered video platform, you can easily find and choose from hundreds of templates created for compliance training videos. Simply select the template that best fits your brand's style and tone, then paste your prepared script to the text block or type it right there.
Step 3: Customise with Images and Videos
To make your video more engaging and memorable, add images and videos that illustrate the key points in your script. You can easily find free stock photos or videos to use as well.
Step 4: Create an AI voiceover
Save time and energy by letting AI create the voice-over for your video. With an AI-powered platform, you can paste or type your script and from the list of languages and voices select the one you like the most.
Step 5: Visualise voiceover
Using AI-driven animations, you can bring your voiceover to life and make your video more engaging. You can make your compliance training video look better by adding Elements, transitions, shapes, animations, Music, Avatars, gifs etc.
Elai.io has 4 types of avatars in its arsenal. You can choose the one that best suits your needs.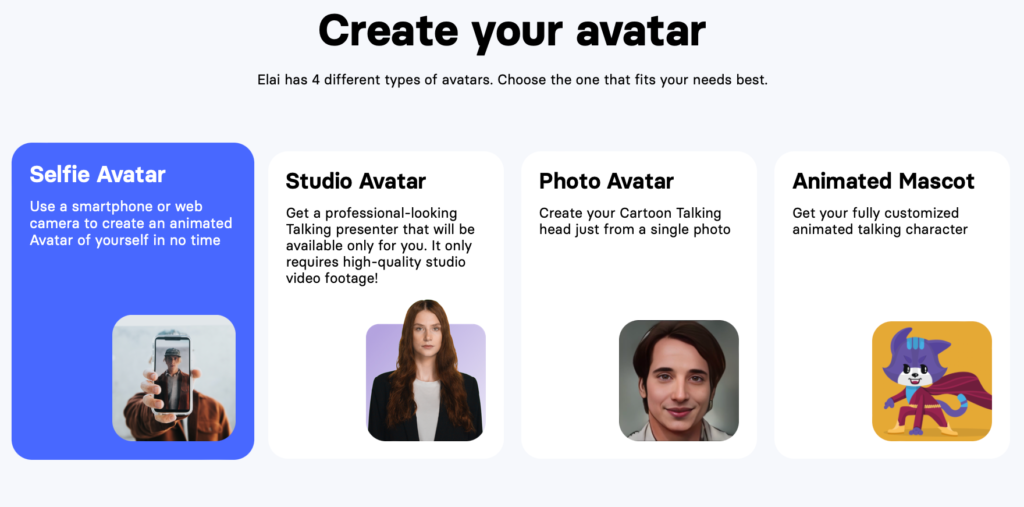 With just a smartphone or web camera, you can create a dynamic and eye-catching animated avatar in no time! Leave static profile photos in the dust and stand out from the crowd with a personalised digital representation of yourself.
Don't settle for bland and boring – let your personality shine with an animated avatar that captures your unique style and spirit.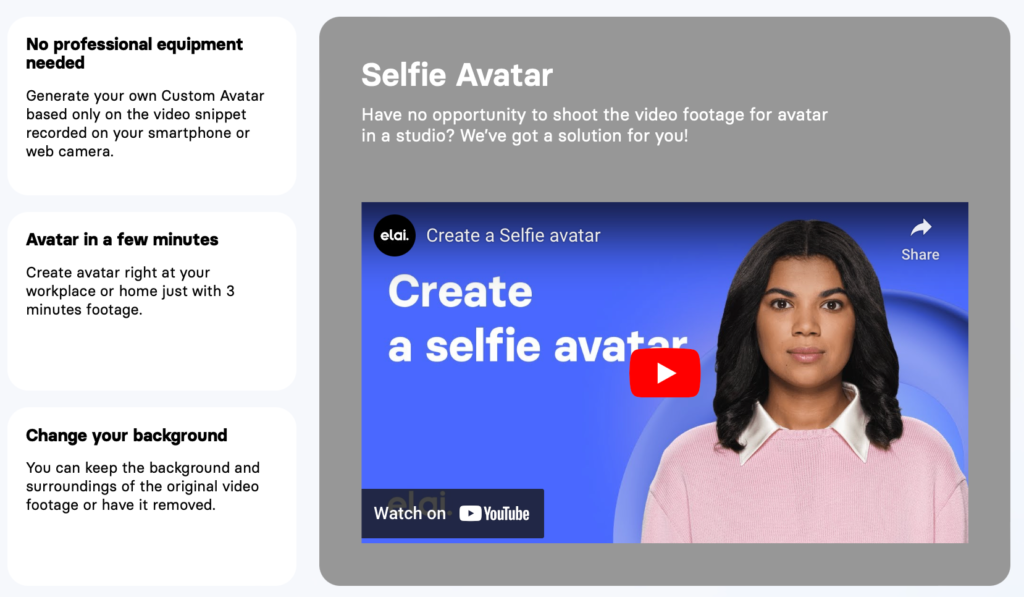 With our innovative technology, all you need is high-quality studio video footage to create a captivating experience for your audience. Imagine impressing your clients or colleagues with a dynamic and engaging speaker tailored to your specific needs.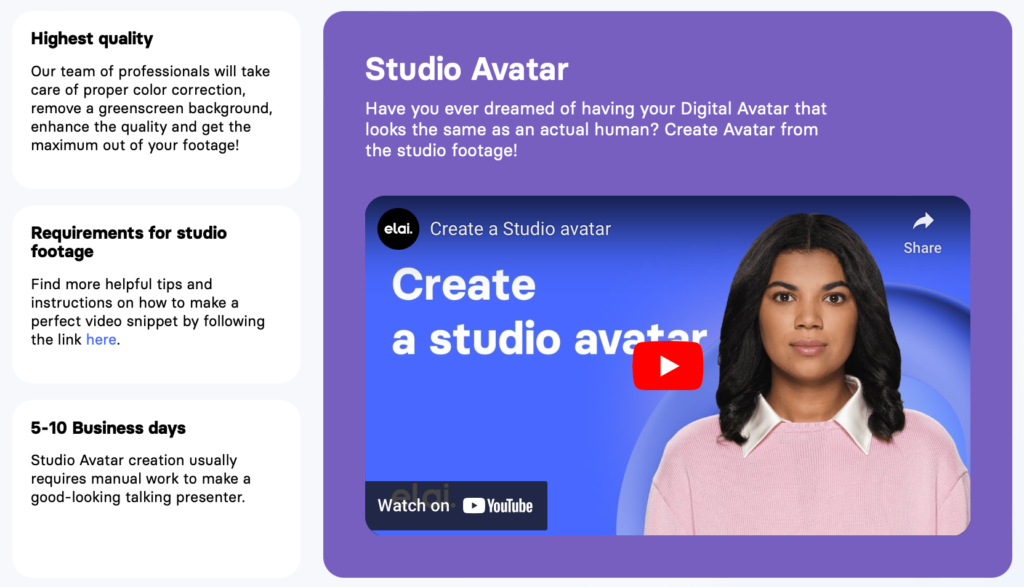 Get your fully customised animated talking character in a matter of minutes! All you need to do is provide us with a few images that represent your brand or product, and let us take it from there. With our AI-powered platform, you can create the perfect animated mascot that truly embodies your company vision.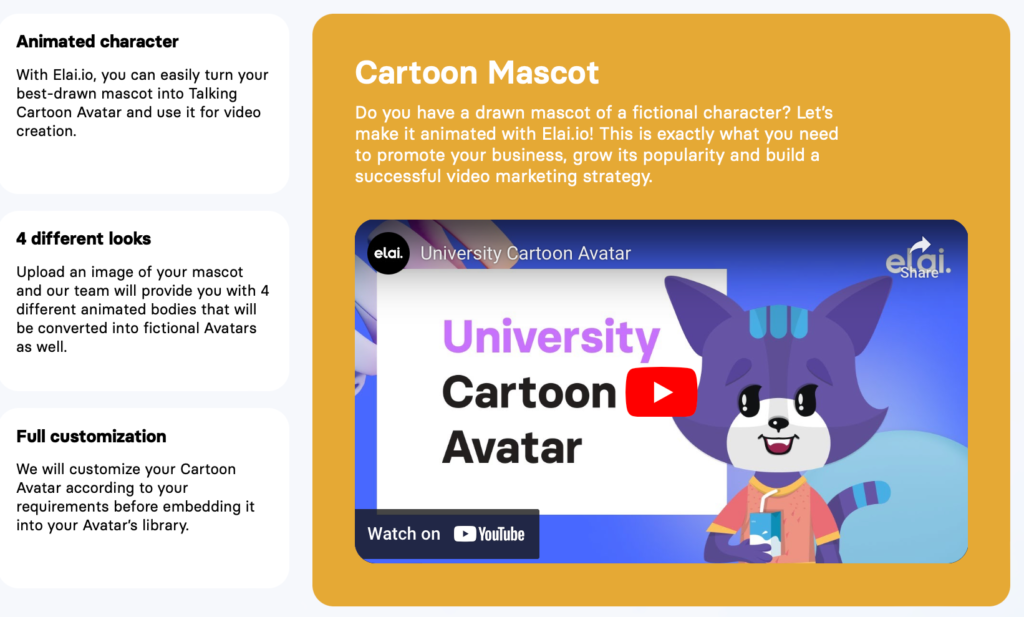 Once you've created your avatar, use it to introduce the video, bring your script to life, and deliver key points in a unique way. With simple animation tools, you can add subtle movements that make your avatar even more engaging and lifelike.
Step 6: Share with your audience
Once you're happy with the final product, it's time to share your video with the world. With our AI-powered platform, you can easily upload your compliance training video to multiple platforms, including YouTube and Vimeo. You can also embed the video on your website or send it directly via email to reach even more viewers.
In summary, compliance training videos are a powerful tool for conveying compliance policies and expectations within organisations. Providing information in short, detailed videos helps reduce the often long and complex texts associated with compliance measures into easily understandable visuals.
By developing engaging videos that give clear instruction backed by the organisation's rules and regulations, companies can create effective learning tools that will engage staff while fulfilling necessary safety and legal requirements.
As well as having stakeholders approve of your compliance guidelines, you can also show them the evidence of an effective training video to support your practices.
It is essential to arm yourself and your team with the knowledge of how to create an engaging video for your compliance training as it remains an invaluable asset for any organisation trying to stay in compliance and remain successful.
For more tips on creating effective video content for your business, take a look at our other helpful articles here!