B2B Videos: The Future of Business Communication
Vitalii Romanchenko
B2B, or Business-to-Business, refers to transactions between businesses, such as the sale of goods or services from one company to another. This type of marketing is incredibly effective as it allows for showcasing products in an engaging and interactive way.
Elai.io is a cutting-edge platform that enables businesses to create high-quality, professional B2B product videos in just a matter of minutes. With AI-powered video creation, businesses can easily create engaging and effective videos without the need for special technical skills or expensive equipment.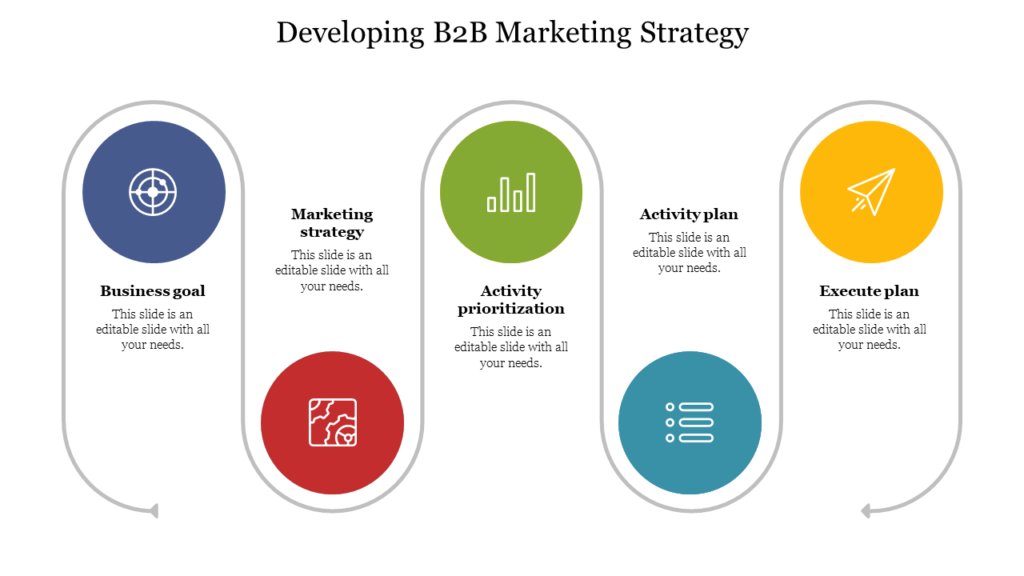 In our current digital landscape, video has become an important asset for companies who wish to engage their targeted relationships with existing customers. Video can convey messages more powerfully than text or pictures and captivate people with a visual auditory experience. B2B video marketing gives enterprises a chance to differentiate themselves from contemporaries, demonstrate their offerings in a captivating way and ultimately foster customer trust.

Get inspired by our B2B video examples to see the full potential of AI video creation for your B2B marketing strategies

How Elai.io Makes B2B Video Production Effortless

Elai.io is the leading platform for AI video creation, offering a range of features designed to make the process simple and effortless.
With Avatars, you no longer need to film yourself in a studio as the virtual presenter will do all the work for you while perfectly representing your brand. Avatars are highly customizable and can be designed to match your brand's aesthetic, style, tone, and messaging, which makes them a powerful tool for creating high-quality, professional videos. Additionally, using Avatars eliminates the need for extensive preparation and production time, making it possible to create videos quickly and easily, without sacrificing quality. With Avatars, you can ensure that your videos are always on-brand, no matter where you are or what you're doing.
The platform's user-friendly interface makes it easy for anyone to create professional-quality videos, regardless of their technical skill level. It has a convenient interface that makes it easy to select templates, add text, images, and music, and customize your video.
Range of tailored templates
With a wide range of tailored templates to choose from, it's a piece of cake to create b2b videos that match your brand's style and messaging. You can choose from a variety of styles, including promotional, explainer, and product demo videos, and customize the look to suit your brand the most.
Integration opportunity with existing systems
Elai.io integrates seamlessly with existing systems, making it simple to publish and share your videos with your target audience. Elai.io offers coherent integration with popular tools such as Powerpoint, Medium, Pexels, GIPHY, Moodle, LottieFiles, Articulate 360, Udemy, and 360Learning for dynamic and personalized AI video creation.
Should you ever need help, the dedicated support team is always available to answer any questions you may have and provide assistance with your video creation projects. Whether you need help with the platform's features or have a technical question, the support team is available to help 24/7.
Use Cases for AI Video Creation in B2B Video Content 2023
In the sphere of B2B video content marketing, video is proving to be an invaluable promotional tool, especially for L&D and E-commerce. However, creating top-notch videos often requires considerable capital investments. This is what makes AI video creation with Elai.io such an attractive prospect for companies of all sizes. Our cutting-edge platform makes it easy for anyone to craft engaging videos—quickly and affordable.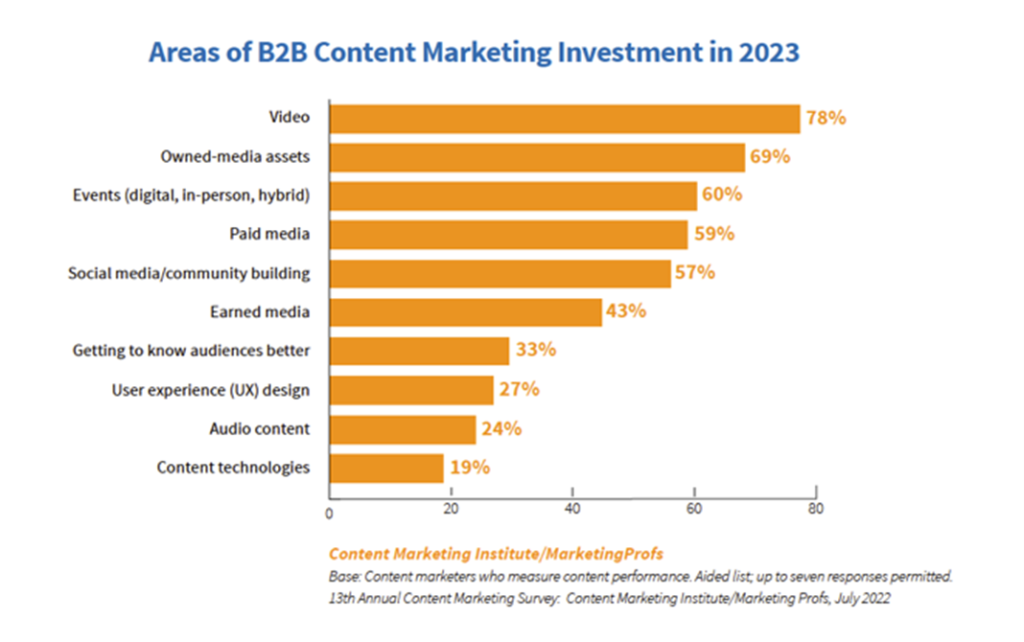 Source – contentmarketinginstitute.com
Companies in the tech sector have a great opportunity to leverage AI-driven video creation in order to demonstrate their cutting-edge products and explain complex ideas in an attractive visual format. Elai.io's sophisticated AI technology produces high-quality videos that showcase the power of advanced tech and its broad selection of themed templates can be easily customized to complement any company's branding.
In today's ever-shifting healthcare landscape, AI-driven video creation offers a helping hand to medical professionals. Elai.io's software gives medical staff the resources to create videos that explain complex concepts in a comprehensible way and make use of new procedures. Using educational video content, patients can gain access to helpful information without having to interpret it themselves. AI video creation is the right solution to help healthcare progress and develop.
Companies in the finance industry have the opportunity to utilize Advanced AI technology from Elai.io to create visually appealing videos that raise awareness of their financial products and services. Financial concepts can be easier to understand, thanks to the wide array of templates offered by Elai.io. This makes complicated banking advice more accessible to a wider audience.
Companies in the marketing industry have discovered video creation with Artificial Intelligence and started to utilize it to build a successful strategy. It allows them to promote their services and products to other companies. Elai.io provides a user-friendly interface with advanced AI technology that makes it easy to create professionally produced videos, highlighting the features of their business. Additionally, integration opportunities with marketing tools and a dedicated support team are the right combination for a hassle-free process so businesses are able to get the maximum benefit out of their video marketing campaigns.
Education is another field that can utilize AI video creation to great effect. Elai.io is leading the charge in delivering solutions tailored to learning purposes. Educators can effortlessly create captivating videos that are capable of explaining intricate subjects with clarity to audiences at any age level. Moreover, seamless integration with learning management systems like Moodle and 360Learning make it simple for teachers to embed AI-generated videos into their teaching materials.